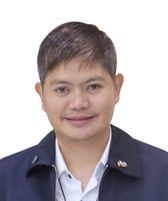 Head, Credit and Financial Services, Banking, Insurance, and Credit Surety Fund Cooperatives Cluster
Assistant Secretary Vidal D. Villanueva, III was appointed as Cooperative Development Authority (CDA) Administrator from the Visayas by His Excellency President Rodrigo Roa Duterte on August 13, 2019.
He also holds the following positions while serving as Member of the CDA Board of Directors:
*  Founder and Chairman of Ako Bisaya Partylist;
* Chairman of Board of Ako Bisaya, Inc.;
*  Chairman of the Board of Directors and CEO of the Oriental Highlands Realty Corporation;
* Chairman of the Board and CEO of IGreen Forest Landscaping Corporation;
* National Youth Parliamentarian; and
* Former Provincial Youth Coordinator of the Province of Bukidnon.
Asec. Villanueva III is currently finishing his Juris Doctor at St. Dominic de Savio College of Law after he transferred from the University of the Visayas Gullas Law School. He earned his Bachelor of Science in Commerce Degree, Major in Management minor in Economics from the San Isidro College School of Business, Malaybalay City, Bukidnon where he was also elected as the President of the Supreme Student Council of the entire school.
His passion and love for the cooperativism started with his involvement with Cebu CFI Community Cooperative (Cebu CFI) through its Founder and Chairman, the late Ret. Judge Esperanza F. Garcia in 2003.
Before coming to the CDA, he worked at the House of Representatives and held the following positions:
Political Affairs Officer and subsequently appointed as

Chief of Staff of Deputy Speaker Pablo P. Garcia of the Second District of Cebu during the 14thand 15th Congresses
Supervising Legislative Staff Officer at the Legal Department of the House of Representatives and assigned at the Office of Deputy Speaker Gwendolyn F. Garcia during the 16thand 17th Congresses;
Chief of Staff to Deputy Speaker Pablo John F. Garcia of the Third District of Cebu during the 18thCongress
Asec. Villanueva brings with him to CDA his youthful vibrancy, compassionate leadership, experiential knowledge acquired through the years, dynamic and excellent interpersonal relationship skills- attributes necessary to rally forward his commitment of promoting people empowerment through the cooperatives movement.  In CDA, his active involvement in crafting    various Memorandum Circulars, benefited the cooperative sector as well as promote the interest of the Cooperative Development Authority as the lead agency primarily responsible for the institutional development and regulation of cooperatives.