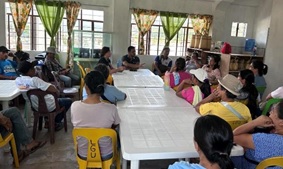 The CDA Region I Extension Office, under the leadership of the Regional Director Atty. Frederick Joe N. Robles, developed the program "Cooperative Assessment and Redevelopment thru Empowerment for Sustainability" (CARES). This program aims to visit the cooperatives, particularly the micro cooperatives, through immersion and integration of CDA R1 officers and staff to personally hear their concerns and issues and know their actual situations so that the authority can promptly address them.
On May 11, 2023, RD Robles, together with the PCDS of Ilocos Sur, Mr. Florentino B. Lorenzana, and CDS II Joy P. Basingel, visited the cooperatives in Quirino, Ilocos Sur, one of the interior municipalities of Ilocos Sur. Sangguniang Bayan Member Evelyn L. El-i, Chairperson of the Committee on Cooperatives, and Ms. Mary E. Caguay, Municipal Cooperative Development Officer, accompanied the CDA Personnel during the visit.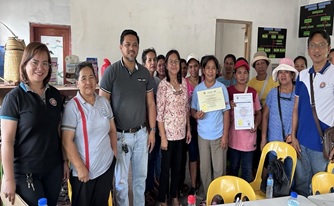 Two cooperatives, Bayanihan Banoen Consumers Cooperative and Banoen IP Credit Cooperative, were present during the 1st meeting at Brgy. Banoen. Likewise, members of the Malban Timpuyog Consumers Cooperative, which has an ongoing application for registration, were also present at the said meeting. Witnessing the activities was Brgy. Captain, Mr. Tranquilino Atimama. There were lots of issues and concerns disclosed by the cooperatives present, which were addressed individually by the CDA personnel. Technical assistance was also rendered, like coaching them on loan collection remedial measures, proper leadership, and management, which in turn enhanced the capabilities of the cooperatives.
In the afternoon, the team proceeded to the office of the MCDO to meet the three cooperatives, namely, Quirino Ilocos Sur Farmers MPC, Binnadang de Igorot Credit Coop, and Bucnit IP Processors Agriculture Cooperative. During the meeting with the above cooperatives, issues and concerns were again raised that dramatically affected them, especially in their operations.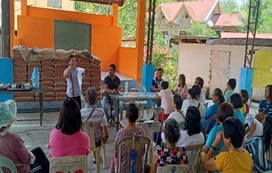 The CDA R1 Team assessed the problems of the cooperatives. It introduced them to CDA programs applicable to their cooperatives, such as the Koop Kapatid Program and other programs linked with other government agencies with cooperative development programs. Likewise, the cooperatives' needs for training in simple bookkeeping, credit management, recordkeeping, and financial literacy were identified upon assessment.
Before the activity ended, Mr. Lorenzana and Ms. Basingel conducted a Post Registration Orientation for the newly registered Cooperative, Bucnit IP Processors Agriculture Cooperative. The Certificate of Registration and Certificate of Compliance were awarded by RD Robles, assisted by SBM El-i. (by: Joy P. Basingel, Florentino B. Lorenzana, and Raymund N. Pilorin)