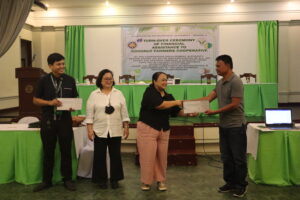 Another momentous event happened on December 27, 2022 at Grand Caprice, Limketkai Center when the 2nd batch of thirty (30) qualified coconut farmers cooperative beneficiaries received the financial assistance worth P250,000 per cooperative on the implementation of RA No. 11524: The Coconut Farmers and Industry Trust Fund Act and Coconut Farmers Industry Development Plan (CFIDP) under the major component on organization and empowerment of coconut farmers through cooperatives.
The 2nd batch release added up to the sixty-one (61) cooperative recipients who previously received the same last December 21, 2022, and completed the overall ninety-one (91) beneficiaries recognized and accredited by the Philippine Coconut Authority 10.
The said activity was graced by the CDA Acting Administrator, Asec Myrla B. Paradillo, Regional Director, Mr. Aminoden A. Elias, CDA Supervising CDS Ms. Marissa B. Catubig, Philippine Coconut Authority 10 (PCA 10) representative Mr. Ralph Marcel Estaño- PDO III, the CDA Head of the Cooperative Project Development Assistance (CPDAS) Division, Ms. Edilberta Balaba, the Head of Registration Section who was also the master of ceremony, Ms. Gloria V. Barrido and the CDA staff who supported the program.
The CDA-PCA partnership was indeed a success and contributed relevant impact to the identified coconut farmers cooperatives who were very happy to receive the financial assistance. This is only the beginning of the five-year plan and implementation of the project; more projects are lined up already to complete this significant plan of PCA.