The launching of isDA On The Go Project and Turnover Ceremony was held last June 22, 2022 at Davao City Fish Port Complex, Toril, Davao City. This is the flagship Corporate Social Responsibility (CSR) Project of Philippine Fisheries Development Authority (PFDA) under the Department of Agriculture (DA) in partnership with the Cooperative Development Authority (CDA). This partnership aims to help micro and small cooperatives enhance their capability and attain economic sustainability and food security through the provision of accessible and affordable fish and fishery products across the country.
        The program started at 10:00 AM, graced by the local and national representatives from CDA, PFDA and officials from the City Government of Davao. Representatives of the twenty (20) identified cooperative-beneficiaries from the different provinces and city of Region XI were also present. Councilor Ralph Abella, District 2 Councilor of Davao City delivered his Welcome Address, on behalf of City Mayor Sebastian Z. Duterte. It was followed by Solidarity Messages from CDA Chairman USec. Joseph B. Encabo, Port Manager of Davao Fish Port Complex of PFDA, Engr. Albert P. Aguinaldo, 3rd District Representative of Davao City, Hon. Isidro T. Ungab, 3 rd District Councilor of Davao City, Hon. Alberto T. Ungab and 2 nd District Councilor of Davao City, Hon. Jonard C. Dayap.
        After the sharing of wisdom, updates, and inspirations, the ceremonial hand-over of the equipment took place. The 20 coop-recipients are the first batch in Mindanao to benefit from this program where they all received brand-new freezers lent to them for their livelihood and enterprise development. Simultaneously, a ceremonial signing of the Tripartite Memorandum of Agreement (MoA) was entered into by and between the PFDA, the supplier, LYRS Davao Corporation and DFPC EMPC and the identified beneficiaries. The said momentous act was witnessed by the Davao City Officials including the OIC of City Cooperative Development Office, Ms. Luzminda C. Eblamo; PFDA officials Engr. Albert P. Aguinaldo and Ms. Janet T. Manalo, Chief of the Regional and Municipal Project Operations Divisions-OSD; members of the CDA Board of Directors headed by USec. Joseph B. Encabo, ASec. Virgilio Lazaga, ASec. Abdulsallam A. Guinomla and ASec. Pendatun B. Disimban and the CDA Deputy Administrator Rey R. Elevazo and Chief of Cooperative Project Development Assistance Division (CPDAD), Ms. Melissa C. Santos.
        The formal program ended with an inspiring Closing Message from Regional Director Ruben L. Cunanan of CDA RO XI. Afterwhich, a mini-conference was held between the CDA and PFDA officials where they shared sumptuous lunch and discussed on future plans and programs for the benefit of the micro and small cooperatives in the different parts of the country. Meanwhile, as the coop-beneficiaries are having their lunch also, they were full of energy in preparing their unit of freezers to be transported back to their respective places, including the frozen fisheries products that they purchased from the suppliers, distributed in the venue by box or by kilo to the buyers. (Maria Theresa B. Dave)
PICTORIALS DURING THE LAUNCHING OF isDA ON THE GO PROJECT
AND TURNOVER CEREMONY IN RXI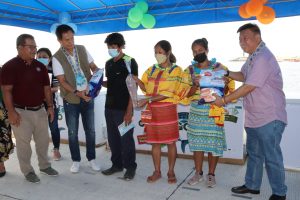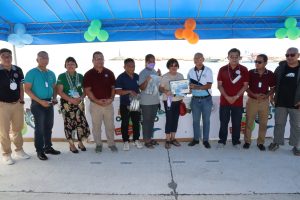 Ceremonial Turn-over of chest freezers to the representatives of coop-beneficiaries by the officials of Davao City Government, PFDA and CDA headed by Chairman USec Joseph B. Encabo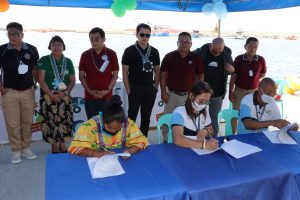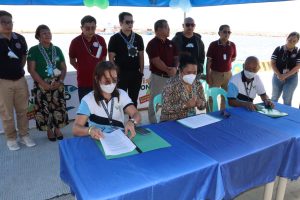 Ceremonial signing of the Tripartite MoA by the representatives of coop-beneficiaries, suppliers (LYRS Davao Corp & DFPC EMPC) and the PFDA, witnessed by the officials of Davao City Government and CDA headed by Chairman USec Joseph B. Encabo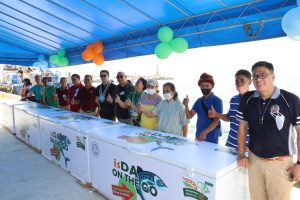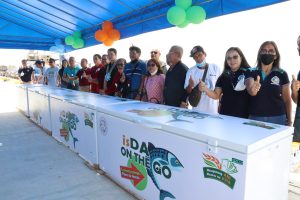 Photo opportunity with the representatives of coop-beneficiaries and the officials from Davao City Government, PFDA and CDA headed by Chairman USec Joseph B. Encabo