Under the CDA program that was initiated by the CDA Chairman, Usec. Joseph B. Encabo, "Internet Connectivity Project For Cooperatives" CDA Region XIII Extension Office held the second batch of the signing of Memorandum of Agreement (MOA) between the Authority and the seven (7) cooperative beneficiaries in Agusan del Sur and Surigao del Sur areas on May 4, 2023 at the Cooperative Learning and Training Center, Brgy. 3,  San Francisco, Agusan Del Sur.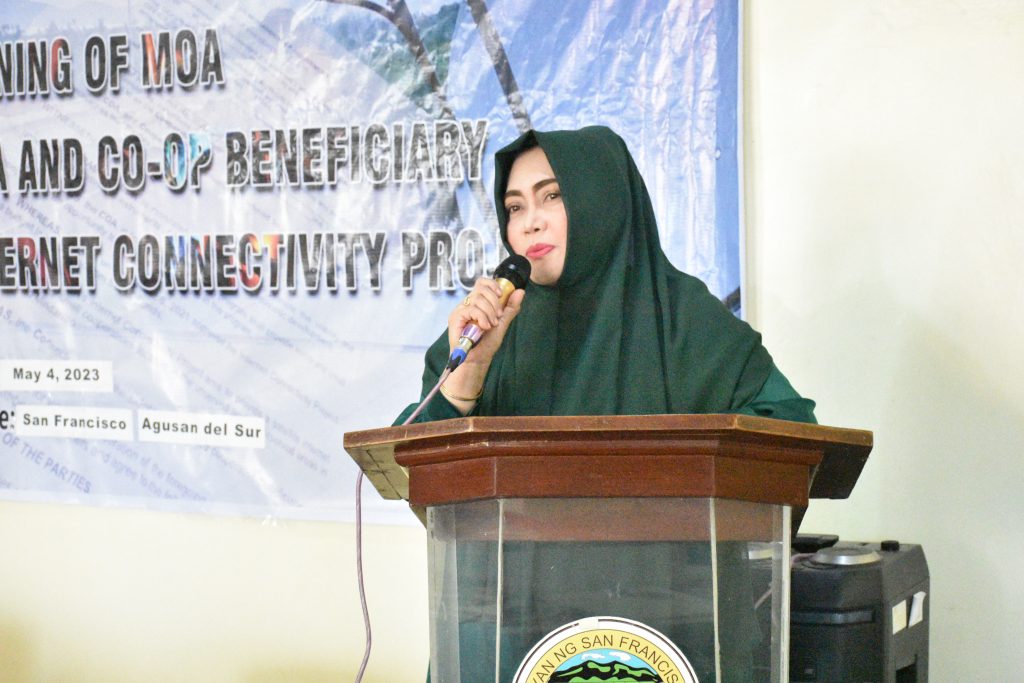 CDA Caraga Regional Director Monatao Honeya R. Alawi, in her speech, reiterated the need for internet connectivity that will boost the capabilities of the micro and small cooperatives to  reach wider markets not only in the national scale but also globally. Primarily, the purpose of the project is technical support thru Internet Connectivity for cooperatives to have easy access of the CDA System on the online submission of reports.  Hopefully, they can now participate in the  on-line marketing via Coop-biz and  other virtual activities. The coops can also help provide internet access to their communities as service to community, and at the same time, it can be their additional source of income.
Recipients of the project are as follows: 1.) San Isidro-Sag-oban Multipurpose Cooperative (SISMPC) – Lianga, Surigao del Sur; 2.) Ugoban Multi-purpose Cooperative – Tagbina, Surigao del Sur; 3.) Cebolin Multi-purpose Cooperative (CEMPCO) – Cebolin, Trento, Agusan del Sur; 4.) Remedios Farmers Multipurpose Cooperative (REFAMCO) – Remedios, Esperanza, Agusan del Sur; 5.) Sto. Tomas Agrarian Reform Beneficiaries and Farmers Multi-purpose Cooperative (STARBFMC) – Loreto, Agusan del Sur; 6.) Dacutan Farmers' Multi-purpose Cooperative (DAFAMCO) – Dacutan, Esperanza, Agusan del Sur; and, 7.) RAM Agrarian Reform Beneficiaries Multi-purpose Cooperative (RARBEMCO) – Rosario, Agusan del Sur.
The event was hosted by the Municipal Cooperative Development Office (MCDO) – San Francisco  headed by Honorina N. Blanco with  'all-out support' of the Council (MCDC) – San Francisco via the Chairman Frederico Blanco. Sr. The Closing remarks  was given by Sr. CDS of CPDAS- CDA, Mr. Leopoldo B. Cabiad which formally ended the activity. *******