The Cooperative Development Authority (CDA) Region III Extension Office – Credit Surety Fund Unit conducted an "Orientation on Credit Surety Fund" last January 9, 2023 at the Office of the City Mayor, Science City of Muñoz, Nueva Ecija.
In 2022, the former Science City of Muñoz Mayor Nestor Lazaro Alvarez and the Credit Surety Fund (CSF) in the LGU decided to register their CSF as a Cooperative at CDA in order to have juridical personality. However, there has been a change in leadership as the Science City of Muñoz elected Baby Armi Lazaro Alvarez as their new Mayor last 2022 National and Local Elections.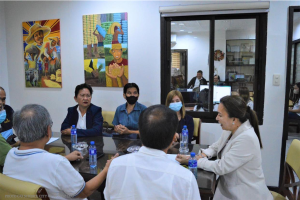 **
With this, the CDA Region III Extension Office was invited to conduct an Orientation on CSF to the new administration of Science City of Muñoz. CSF Unit Senior CDS Yolanda Ciriaco and Atty. Macy Marcelo imparted a concise explanation on Republic Act No. 10744 – Credit Surety Fund Cooperative Act of 2015, an act providing for the creation and organization of Credit Surety Fund Cooperatives to manage and administer credit surety funds to enhance the accessibility of micro, small and medium enterprises, cooperatives and non-government organizations to the credit facility of banks and for other purposes.
Also discussed during the orientation is the CDA Memorandum Circular 2018-05 – Guidelines for Registration of Credit Surety Fund Cooperative; wherein one of the documentary requirements is the resolution of the LGU's Sangguniang Panlalawigan or Sangguniang Panlungsod, as the case may be, indicating, among others, its commitment to join the CSF Cooperative, the amount of initial contribution which must be equal to or more than the aggregate contributions of the participating cooperatives/NGOs, and authority for the Local Chief Executive to sign the Articles of Cooperation and By-Laws (ACBL) with other stakeholders.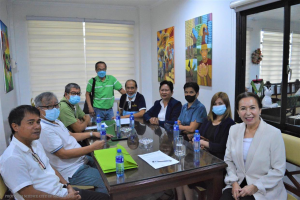 The orientation for the new administration of Science City of Muñoz was attended by Mayor Baby Armi Lazaro Alvarez, City Cooperative Officer Joel Manuel, San Jose City Cooperative Department representative Mercholyn Lubiano, Muñoz Travelers Multi-Purpose Cooperative representative Jose Torres, and Bantug Primary Multi-Purpose Cooperative representative Arthur Corejano.
**
Prepared by: ANGELICA M. HERICO, CDS II   
CDA Regional Office III Facebook Post | CDA Region III Extension Office conducts Orientation on CDA Credit Surety Fund