The Caliraya-Botocan-Kalayaan MPC of Kalayaan, Laguna has once again extended help and assistance to the community during this time of pandemic. As a form of its community outreach program, through the leadership of its cooperative officers headed by Chairperson ROGER F. QUIÑONES JR, they donated PPEs in Laguna Medical Center, making the Provincial Health Office Multipurpose Cooperative (PHO MPC) as the recipient cooperative. This assistance also paved the way for the CBK MPC to act upon its role in their Memorandum of Agreement for CDA Koop Kapatid Program with the said small cooperative as their beneficiary after a couple of years.
CBK MPC is a large type of institutional cooperative with over 100 million assets, which enabled it to accommodate various community assistance. It has sponsored countless seminars, particularly the CDA required trainings, such as Fundamentals of Cooperative, Cooperative Management and Governance, Financial and Risk Management Seminar, and even the CDA Annual Compliance Review which favored all operating cooperatives in its coastal community.
The CBK MPC also provided computer sets to the needy cooperatives, also benefitting the communities who could access the services of such co-ops. In appreciation for these efforts, Memorandum of Agreement among CBK MPC, CDA, Laguna PCDO, and five micro non-compliant cooperatives was signed in 2018. This agreement resulted for the five non- compliant cooperatives to be equipped to prepare and comply reports with the CDA.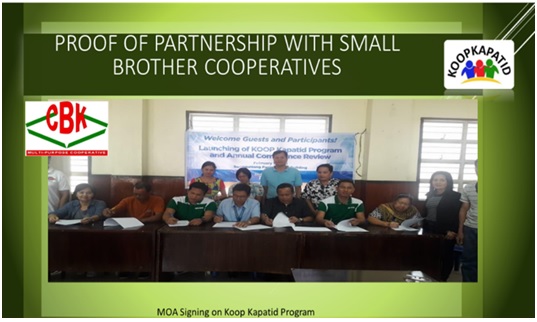 During this time of pandemic, the CBK MPC also offered Fifty Thousand Pesos worth of medical supplies to the Frontliners of coastal municipalities in their district, namely Kalayaan, Cavinti, Lumban, Pagsanjan, Pila and Sta. Cruz, Laguna. Likewise, an amount of Five Thousand Pesos each for ten families who were fire victims in Kalayaan, Laguna had been donated.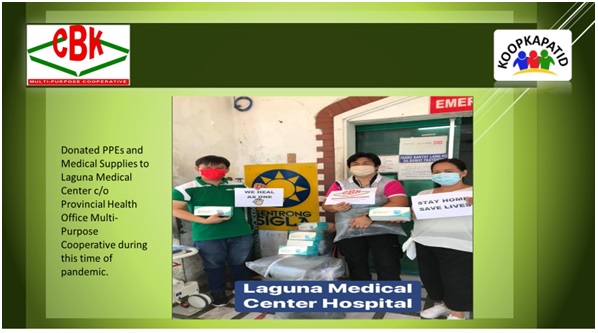 The Provincial Health Office MPC, on the other hand, is a micro cooperative operating in Sta. Cruz, Laguna which is composed of employees from Laguna Medical Center. Being an institutional based cooperative, submission of reports with the CDA is always a big deal. There were years that this cooperative could not comply with the annual requirements, the reason why it had undergone the process of dissolution. It was only during this year that it became compliant again.
But this time of pandemic, this difficulty reoccurred. Because of the very frantic schedule in the hospital, PHO MPC found it very tough again, hence their struggle to comply with the annual reports.
Upon the recommendation of the CBK MPC to Ms. Arlene Pingol of Pedro Guevara Memorial National High School Multi-Purpose Cooperative (PGMNHS MPC), reports of PHO MPC had been accomplished and satisfied. This was done through constant communication and the spirit of helping one another.