As the pandemic devoured our country and community, many of our cooperative members experienced battles to survive in the midst of this pandemic. But despite these endeavors, many of our partners in cooperative development are determined to continue to serve. The heart for the cooperative is still immovable. The passion and commitment to help various communities are still intact and cooperatives are trying to push through measures to help in this hard time. The Tayabas City Cooperative Development Office (TCCDC), headed by Mr. Gener Abordo, City Cooperative Officer, is one of the examples of an organization who really committed in making a distinct approach of enthusiasm to serve the cooperative sector.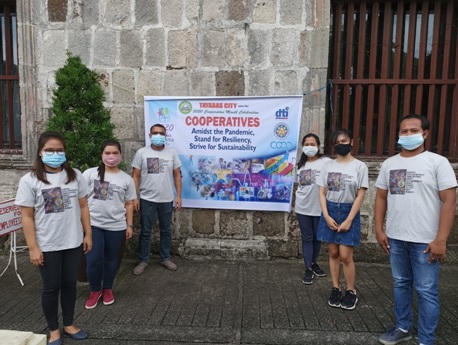 As one of their developmental programs, hand-on-hand together with the partner agency Department of Trade and Industry (DTI) Negosyo Center- Tayabas City, they conducted an activity on Livelihood Seeding Program – Negosyo Serbisyo sa Barangay. This program aimed to provide basic business advisory for MSMEs in the locality and provide livelihood kit to selected MSMEs to help them restore their business specifically those who have sari-sari stores. There are 4 member-cooperative beneficiaries, they are from Ilasan Multipurpose Cooperative, Samahan ng Nagkakaisang Magsasaka ng Ibabang Palale sa Tayabas Credit Cooperative (SNMIPTCC), and Masa Credit Cooperative of Tayabas (MCCT). It is a fact that MSMEs are in need of big help because they are greatly affected by this pandemic, especially on additional capital. Thus, the Cooperative sector in Tayabas City is taking the opportunity to support at all costs.

In addition, through the coordination of TCCDC and the Local Government Unit (LGU) of Tayabas through their Cooperative Capital Assistance Program – a loan facility, the Samahan ng Nagkakaisang Magsasaka ng Ibabang Palale sa Tayabas Credit Cooperative (SNMIPTCC) received a check amounting to Five hundred thousand pesos (P500,000.00) as additional capital for business expansion and/or new business endeavor. This is definitely a great opportunity for SNMIPTCC, a micro cooperative who are thriving in this trying time, to utilize the big amount for additional capital. In line with these, despite the pandemic situation and the limited operation of SNMIPTCC, the concern for community is still embedded in their hearts. The SNMIPTCC is thriving and still serving.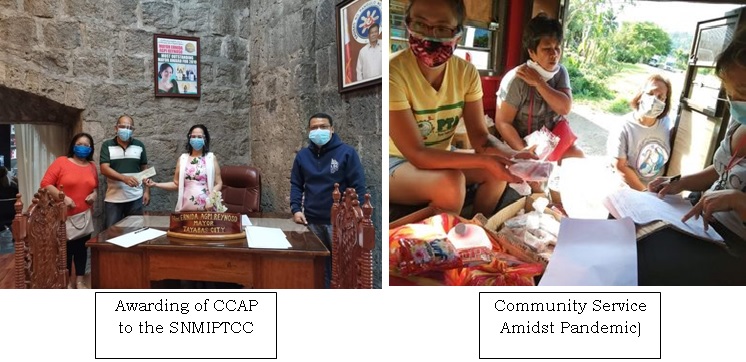 Also, there are lots of aligned activities scheduledto happen in the upcoming weeks which will be focused on individual skills development. It was made possible through the coordination of TCCDC, LGU-Tayabas, and Technical Education and Skills Development Authority (TESDA). The courses offered were Electrical Installation and Maintenance NC II and Bread and Pastry Production NC II. The Lesbian, Gay, Bisexual and transgender (LGBT) Community are warmly encouraged to be a scholar of Bread and Pastry Production NC II. In line with this, it will be funded by the Gender and Development – Tayabas City. The said training will happen in Casa Comunidad, Tayabas City. The scholars will receive an allowance, uniforms, Books, internet allowances, and toolkit.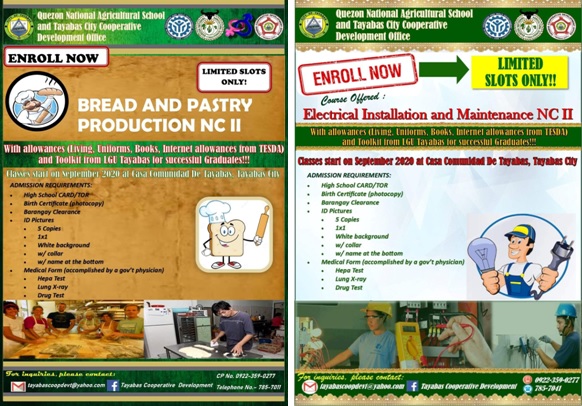 The hurdles in these trying times seem like never-ending problems.We all know that we are all affected in all aspects. But through the help of joined forces of community and social development movement, if there is a way of helping, every chance of support will be surely given. (By: Ms. Hannah Leah V. Panaligan)