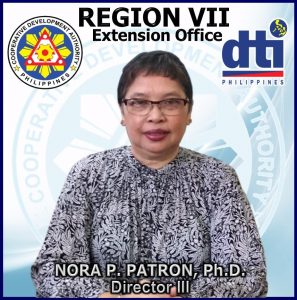 Greetings to all!
The fiscal Year 2020 marked the most challenging year for the Cooperatives and the Cooperative Development Authority in Region VII.
Covid-19 Pandemic put forward the country to strict regulations in doing business and the cooperatives were affected.  Most business operations were closed and more cooperatives especially those situated in the hinterlands have difficulties in coping with the online platform as the new normal in dealing with business transactions.
On the other side, the principles of cooperation embraced by all cooperatives pave the way to survive and rise above with the enabling support of the Cooperative Development Authority.  Various issuances are formulated as pro-active measures to address the needs of the cooperatives nationwide.
Strong partnership and collaboration with the local government units, national government agencies,  and large cooperatives are measures adopted and installed to minimize the effects of Pandemic in the cooperative business environment.
The  Big Brother-Small Brother Program of the Authority together with the support of the local government units help the micro and small cooperatives comply with the mandatory reports.  Hence, qualify the micro and small cooperatives to be issued with the Certificate of Compliance.
More collaborations are needed to help the cooperatives recover from the lost economic opportunities thereby adopting the new normal technology in doing business.
The Cooperative Development Authority Region VII  Extension Office would like to express our deepest gratitude to all cooperative stakeholders for the unwavering support to help mitigate the effects brought by COVID-19 Pandemic in the lives of every cooperative member.
Indeed, the men and women of CDA Region VII Extension Office are thankful for giving us the opportunity to serve you all!
God speed!
NORA P. PATRON, Ph.D.
Director III
Annual Report with Director's Message