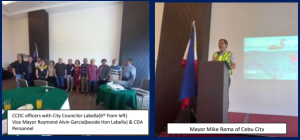 The Cebu City Cooperative Development Council held a forum on February 23, 2023 at the Golden Peak Hotel, Cebu City.
City government officials led by Mayor Mike Rama graced the activity and announced the plans and programs of the city. He emphasized that collaborative efforts should be the approach for reaching  Cebu City's vision. Likewise, he gave his support to the cooperatives and looked forward for a greater partnership with the cooperative sector.
Vice Mayor Raymond Alvin Garcia was present to give his message and assured the Cebu City CDC of his support. He challenged the cooperatives to conduct its business in accordance with cooperative principles and values. He imparted the history of Cebu and the significance of it in the development of the city.
The Chairman of the Committee on Cooperatives, City Councilor Edgardo "Jaypee" Labella II was ecstatic of the presence of the cooperative leaders during the forum. He encouraged suggestions and ideas from the cooperative sector for the attainment of development in the city.
The forum was an opportune time for CDA to give updates and discuss the salient features of the RA 11364(CDA Charter of 2019), RA 115345(Creation of the Cooperatives Development Office), memorandum circulars pertaining to the creation of cooperative development councils. CDA personnel present were Gracia Nenita B. Banogon, Senior CDS, and Samsodin Radia. CDS II in Cebu City North District.
Mr. Ryan Benjamin Uy, CCDC vice chairman, spoke significantly of cooperation and participation of all cooperatives. He thanked the city government for their support to the cooperatives.
As 2023 begins, the Cebu City Cooperative Development Council have things to look forward in the coming days as a venue of collaboration between the Cebu City government, cooperatives and stakeholders.