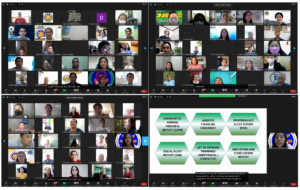 CDA NCR for this year 2022 expects to receive One Thousand Eighty-Six (1,086) mandatory reports from the different cooperatives in the region, however, data shows that only six hundred twelve (612) or fifty-six percent (56%) have submitted their reports as of June 30, 2022.
To assure the increase in the collection of reports, this Regional Office conducted another Compliance Forum for NCR cooperatives last July 26, 2022, thru the Zoom Meeting platform attended by sixty (60) micro, thirty-six (36) small, thirty-seven (37) medium and twenty (20) large cooperatives and three (3) CDO's with one hundred twenty-four (124), fifty-seven (57), seventy-seven (77), forty-two (42) and eight (8) individual participants respectively.
The seminar was a repetition of the series of forum held earlier this year which intends to capacitate cooperatives in NCR in the preparation and submission of the annual mandatory reports using the new Cooperative Annual Information System (CAIS) reporting format.  The activity was a collaboration of the Cooperative Research, Information and Training Section (CRITS) and the Supervision and Examination Section (SES).
Ms. Emerlinda G. Guillemer, Head and Acting Senior CDS, spearheaded the SES team who discussed topics relating to accomplishing the Electronic Cooperative Registration Information System (E-CoopRIS) and the Cooperative Annual Information System (CAIS).
Ms. Guillemer gave the rationale of the activity as well as the legal bases and facilitated the open forum. Ms. Jesslyn Mae Cuevas gave a hands-on guide in accomplishing the Cooperative Annual Performance Report (CAPR) and Audited Financial Statement (AFS), followed by Ms. Rachel Solayao taking up the topics on Performance Audit Report (PAR) and Social Audit Report (SAR) and finally Ms. Hanika Villaflores discussed the List of Officers Trainings Attended (LOTA) and Mediation and Conciliation (Medcon) reports.
As of this writing NCR have already received Seven Hundred Ninety-Three (793) or Seventy Three percent (73%) reports in total and issued Two Hundred Thirty-Seven (237) Certificate of Compliance (COCs). This is attributed to the tireless efforts of all our technical personnel in giving technical assistance thru the Hand Holding program of the Office to assure that all cooperatives in the region be compliant with the law.