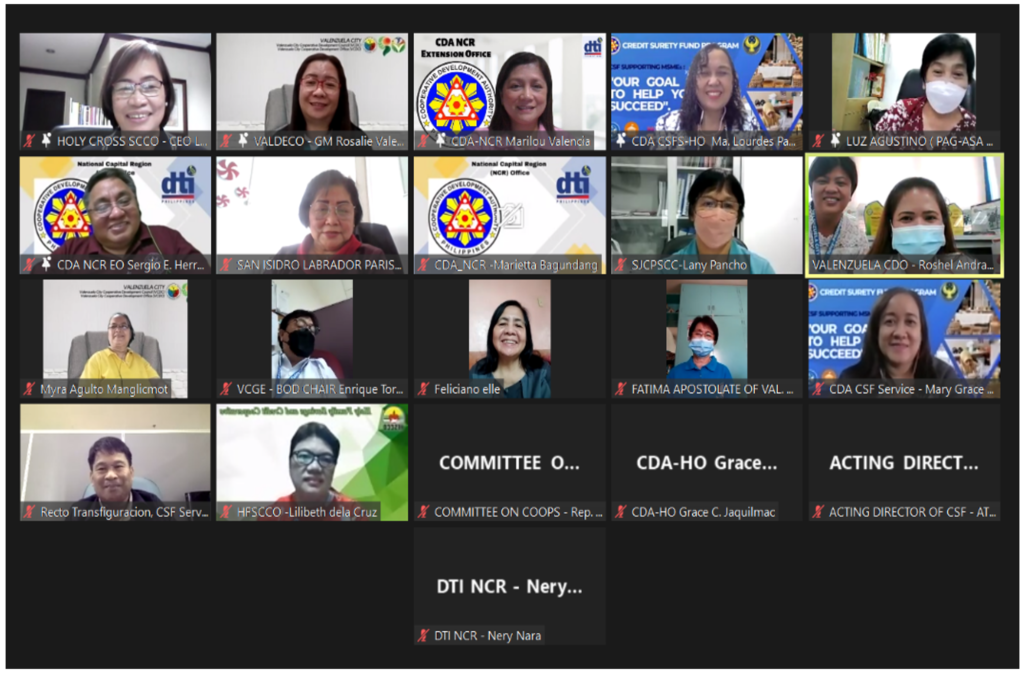 The Valenzuela Cooperative Development Council in coordination with the Valenzuela Cooperative Development Office requested the Credit Surety Fund Services Department (CSFS) of the Cooperative Development Authority to discuss /explain what the Credit Surety Fund is all about, on September 6, 2022, via Zoom from 10:00 a.m. to 12:45 P.M.
In attendance were a total of twenty-three (23) participants as the pictures below show.
The virtual orientation started with an Invocation, singing of the National Anthem and Valenzuela City Hymn, then followed by the recitation of the Cooperative Pledge. The Welcome Remarks was given by Ms. Lillian D. Silubrico, Valenzuela Cooperative Development Council Chairperson.
Afterwhich Ms. Roshel Andrada, Valenzuela City CDO Staff welcomed the participants and requested on CDS II of Valenzuela City to introduce the Resource Speakers.
The first Resource Person, Ms. Marietta G. Bagundang, CDS II of CSF presented her topic using a Powerpoint:
Republic Act 10744 Credit Surety Fund Cooperative Act of 2015

Purposes of Republic Act 10744 Credit Surety Fund Cooperative Act of 2015

Specific office in charge of CSF Cooperatives

Technical Assistance Division Functions & Responsibilities

Inspection & Examination Division Functions & Responsibilities

What is Credit Surety Fund (CSF)?

Who will administer the CSF?

What is a CSF Cooperative?

Does a CSF Cooperative have a juridical personality?
Due to technical problems, the second Resource Person, Mr. Sergio E. Herrero, Jr., Senior CDS of CSF was not able to present his topic.
The CSF Team headed by Deputy Administrator, Atty. Ma. Lourdes P. Pacao ably answered the questions raised. The participants were very grateful for the various perspectives they gained from the CSF Team. After further clarifications were made, the CDC Officers were more convinced and encouraged to organize CSF Cooperative in Valenzuela City.
In conclusion, Orientation Facilitator CDS II added: "So that's it. Hoping you have listened quite well to our CSF resource speakers and have been enlightened on the topic – what CSF is all about, how we may benefit from it, and share its benefits with other cooperators. Thus, we would like to thank profusely our CSF Team for the comprehensive and encouraging orientation."