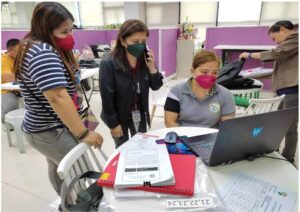 Valenzuela, Malabon and Navotas assigned CDS II, has been rendering handholding and technical assistance services for Valenzuela and Navotas Cooperatives on last minute tasks for completion of online submission of reports (E-CoopRIS and CAIS) at 2nd Floor Valenzuela CDO, Valenzuela City on June 24, 2022.
Despite the Systems defective and bad gateway, the Cooperatives were very happy at the end of the day because they were able to submit the required reports on time.
Special thanks and appreciation are given to Valenzuela City CDO especially to Dr. Ophie Pascual Osea, Ms Roshel Andrada, Ms Crystal Castro and staff for their untiring and all out support such as use of their internet connection and food logistics, in all activities of CDA with their Coops specially today.