The Cooperative Month is celebrated annually from October 1 – 31. PECCI started its celebration early and what better way to do it than thru helping different communities by providing assistance for building infrastructures, supporting livelihoods, and aiding sustainable projects as early as the beginning of 3rd quarter of the year.
The PECCI Board of Directors,Soci al Community Development Technical Working Group (SCD-TWG) and other officers visited San Jose Elementary School and EM Fabella-Ansaldo  Elementary School in Roxas, Oriental Mindoro last August 27, 2022. PECCI donated 316 school supplies packages for the students' fundamental needs in school and 10 Smart TVs as teaching aid for the educators and teachers of these two (2) schools.
Lecture on Disaster Risk Reduction Management (DRRM) was also conducted for barangay officials and some constituents of Barangay San Jose and San Vicente to equip them with basic education on preparedness during natural calamities like typhoon and earthquake. PECCI also donated 2 megaphones, 30 raincoats, 30 flashlights, and 30 whistles which are needed tools and equipment to add another layer for the safety and protections of their communities.
In celebration of the Grandparents' Day last September 24, 2022, PECCI extended its caring hands and provided canned goods, rice, sanitation and health products, vitamins, and some blankets to the elderly of the LGBTQIA+ community and the Golden Gays organization.
The    Golden Gays is a Philippine non-profit organization that provides support and care facilities for elderly LGBTQIA+ people.
The PECCI Gender and Development (GAD) and the Social Community Development (SCD) joined forces and collaborated to bring joy to the Golden Gays. After all, PECCI is a firm believer in the recognition and acceptance of diversity and all genders in our society.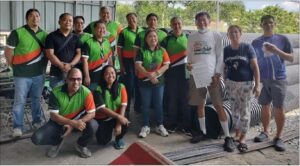 To cap the celebration of the Cooperative Month, the PECCI Board of Directors and SCD visited the tireless and industrious farmers of Cabalantian, Bacolor Pampanga on October 22, 2022. PECCI turned over a c ash donation amounting to Php205,000 for the construction of their mini- irrigation system which aims to provide hydration to their rice and corn fields with a total of 62-hectare land. At the same time, this will re-vegetate the disturbed soils during times of less than average rainfall or the dry season. With this, bountiful produce is assured for our dear farmers and backyard vegetable growers who are extremely overwhelmed with gratitude for the support that PECCI has extended to their small community which will greatly aid their livelihood.
PECCI dreams for the Cooperative Month to be not just a celebration, but for it to become a culture of passionately supporting one another, making sure that no community is left behind. With this, having a nation that is self-sustaining, strong and able to survive all forms of struggle is not too hard to achieve. In PECCI, we go by the mantra "Kayang-kaya basta't sama-sama" because we believe that there is really success and progress when people unite and work hand in hand.