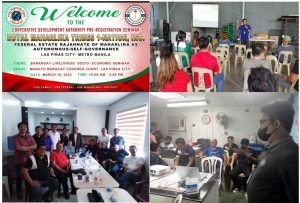 The CDA- National Capital Region Extension Office, in coordination with Las Pinas Cooperative Development Council and Muntinlupa City Cooperative Office, held a series of Pre-Registration Seminars to would-be cooperators/cooperatives as part of the Authority's  mandate "to promote the viability and growth of cooperatives as instruments of equity, social justice and sustainable economic development", on March 4, March 10, April 11 and 19 at different venues within the cities of Las Pinas and Muntinlupa. These were attended by various individuals such as employees, drivers-operators, members of associations and residents of barangays.
Part of the seminar is to orient its participants in the world of cooperative, its concepts and principles, distinct features amongst other organizations, requirements for registration and the process of registration through Electronic Cooperative Registration Information System (E-CoopRIS).
The said seminar is being conducted as a pre-requisite for registration which should be attended by all cooperators of a proposed cooperative.