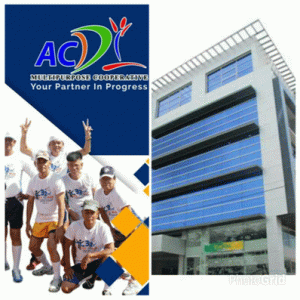 ACDI Multipurpose Cooperative is the largest cooperative in the country with an asset base of nearly 12.29 Billion pesos as of December 2014.  In 2015,  they are awarded as the Gawad
Parangal Most Outstanding Cooperative Large Scale Category by the Cooperative Development Authority.  This is a statement to the ACDI's sustainable growth and contributions to people empowerment, social development and nation building.
As of the year 2014, ACDI is operating a total of 80 offices strategically located across the entire Philippines, a move to make their services closer to and at the convenience of their members.  Their head office is situated at BGen. Felix T. Pestana (Ret) Bldg., with an Annex at Col. Godofredo M. Juliano Bldg., both in Western Bicutan, Taguig City.
ACDI is an institutional cooperative serving members from the Armed Forces of the Philippines (AFP).  Their members are those in active service, retirees, in the reserved force, and regular civilian employees of the military.
HISTORY OF ACDI MULTIPURPOSE COOPERATIVE
The story of ACDI MPC is not summed up by the amount of assets nor revenues they have made.  it can be told by the journey and partnership they have built with their members and partners to become who they are today.
ACDI MPC was able to grow from a budding credit cooperative in 1981 into the largest multipurpose cooperative in the Philippines today.
This cooperative was born in an era when financial services and assistance available to the men and women in uniform were controlled by few big players.  But even if there were already a number of established financial institutions service in the military, only few, if not at all, are owned by soldiers.  This is what inspired a group of 26 Philippine Air Force (PAF) pilots, who were all products of the PAF Flying School, to create the ACES Credit Cooperative Development, Inc.  (ACCDI) on October 20, 1981.
With an initial capital of 200,000 pesos, they started the cooperative operation on May 11, 1982 at a small shared office space in Nichols Air Base (now known as Colonel Jesus Villamor Air Base) in Pasay City.
ACCDI was later renamed to ACDI Credit Cooperative in 1991.  This is in compliance with the guidelines on naming cooperatives issued by the CDA.  The acronym ACDI was used to retain the goodwill and reputation the cooperative has established with their members and partners.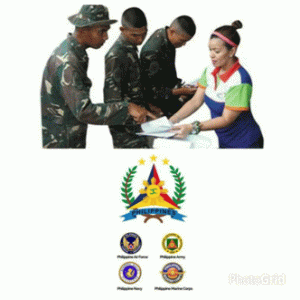 In 2002, ACDI became a billionaire cooperative. In 2007, ACDI Credit Cooperative was again renamed as ACDI Savings and Credit Cooperative as they increase the financial services in  savings and investments.
After three decades in operation, they have fully transitioned from a small credit cooperative into a large multipurpose cooperative and that was happened in year 2011.   The cooperative is offering more product lines, from savings and lending to aviation training, consumer services, agribusiness and insurance.
In 2014, ACDI became the largest cooperative in the Philippines in terms of assets.  Today they were not only able to grow ourselves in size and scale of operations, but they were able to build the reputation as the most outstanding cooperative in the country as recognized by the CDA.
Jumping off from the gains and achievements in the past decades, ACDI continues to embark on a much aggressive growth agenda across our various business operations.  These were intended to make their operations more efficient, their products to be more competitive and the quality of their services to be even much better.
ACDI MPC PRODUCTS AND SERVICES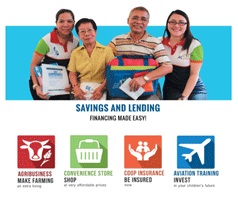 ACDI MPC works towards understanding the uniqueness of their members' needs.  They provide affordable financial and livelihood services to support members' development.  They provide loans and savings, which form part of the cooperative's core business.  Low-interest loans were offered as income extenders of members.  Loan packages are being customized to cater to the various needs of the members such as livelihood, real estate, and calamity loans.  Likewise they provide high yielding savings and long term investment packages to help members prepare for their future.
To move closer to its service philosophies, ACDI expanded its service line from a simple credit services to a more complex services such as aviation training, consumer services, insurance and agribusiness.
ITS COMMITMENTS
ACDI MPC viewed business not as a self serving endeavour but as a social enterprise.  It has always been committed to fulfilling social responsibilities as instruments of advancing growth and development of members and the communities they live in.  As it rise to become one of the leading cooperatives in the Philippines, social investments continue to reflect to the cooperative's core philosophies and values.  Its more than 200 social development programs every year are geared to serve the best interest of its members and to ensure that they live up to become a responsible member of the community of cooperatives and the Filipino society.
Community Development And Nation Building.  ACDI works towards becoming a partner in building empowered and sustainable communities in partnership with government agencies and NGOs.  They initiate and participate in various advocacies and projects, such as livelihood programs, education and scholarship, medical missions, reforestation, coastal clean ups, humanitarian assistance and relief drives for those affected by typhoons and other calamities.
Environmental protection.  ACDI actively participates in various tree planting and coastal clean up programs as part of its commitment to the conservation and protection of the environment.
Advancement of cooperativism in the country.  ACDI has always believe that in order for the cooperative movement to flourish in the Philippines, individual cooperatives must grow, and if needed more cooperative must spring out to reach more Filipinos nationwide.  This is why, as part of its advocacy is to capacitate small and budding cooperatives to be sustainable.  It also continues to create networks of partner cooperatives, under the Convergence Framework of the CDA.  ACDI acknowledges its constraint that they can not effectively address the multi-dimensional needs of all its members by doing it alone.
ACDI continues to strengthen existing partnership by forging new ones with other cooperatives over areas of cooperative banking, insurance, health management and Coop Mart.  In the coming years, it will continue to push the Convergence Agenda forward to other sectors such as energy, transportation, media, housing and other areas that will greatly benefit cooperative members across the country.