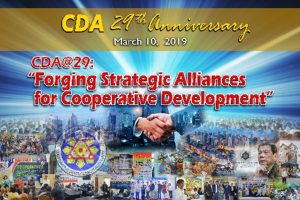 Huge chinese lanterns hanging from ceilings and carpeted floors muffling the steps of one hundred-sixty (160) participants during the 29th Anniversary of the Cooperative Development Authority (CDA) on March 11, 2019 held at Gloria Maris Banquet Hall, 4th Level Gateway Mall.
A yearly event celebrating the signing of the R.A. 6939 or the CDA Charter on March 10, 1990, each event looks back on the past accomplishments of former administrations and what has been accomplished thus far, as well as pipe-line programs of the agency for the coming year.
The program started at 10 o'clock in the morning with an ecumenical prayer led by Fr. Joel Esplana Sulse, OFM. Followed by an intermission number given by Ms. Jillian Francisco, an 11-year old upcoming singer, currently being trained at the Center for Pop Music.
The opening message was given by Administrator Benjie S. Oliva, impressing upon the CDA officials, officers and employees the importance of the CDA as an agency and its role in the development and regulation of cooperatives.
The CDA was also graced with the presence of Hon. Abdulgani Macatoman, Department of Trade and Industry (DTI) Undersecretary for Special Concerns. He stated his commitment to lobby the passage of the proposed budget of CDA to the Task Force Bangon Marawi where DTI heads the Sub-Committee on Business and Livelihood.
Messages were also given by Adm. Abad L. Santos, Adm. Abdulsalam A. Guinomla, former Chairperson Lecira V. Juarez. Present also were former CDA Board of Administrators Pendatun Disimban and Mercedes Castillo. The messages of support for the cooperative sector inspired the audience to continually work hard and be passionate in serving the movement.
One of the highlights of the celebration is the Signing of the Memorandum of Agreement (MOA) between CDA and Small Business Corporation (SBC), a partnership agreement on the Pondo sa Pagbabago at Pag-asenso (P3) Program.
Present during the signing from SBC were Ms. Ma. Luna E. Cacanando, President and CEO; Mr. Melvin A. Abanto, Executive Vice President and COO; and Ms. Lourdes Rosario M. Baula, OIC Head, Financing Sector.
Chairman Orlando R. Ravanera gave his message of thanks for supporters of CDA programs and for cooperative development, such as the DOF, BIR, DTI, TESDA, Senate, Congress. He extended his appreciation that the CDA has reached its 29th year in service to cooperatives. (link on full speech of CORR)
The launching of the Gawad sa Natatanging Kawani ng CDA was led by Adm. Myrla B. Paradillo. This awards system is for all CDA employees nationwide who have loyally served the agency with excellence, professionalism and integrity, both for internal and external clienteles.
Adm. Paisal Cali ended the program by giving his congratulatory message for CDA for having reached almost three (3) decades, and his pleasure for having been part of the journey with the CDA workforce in achieving our mandate promoting the viability and growth of cooperatives as instruments of equity, social justice and economic development. C.B. Marders
---
RESOURCES: