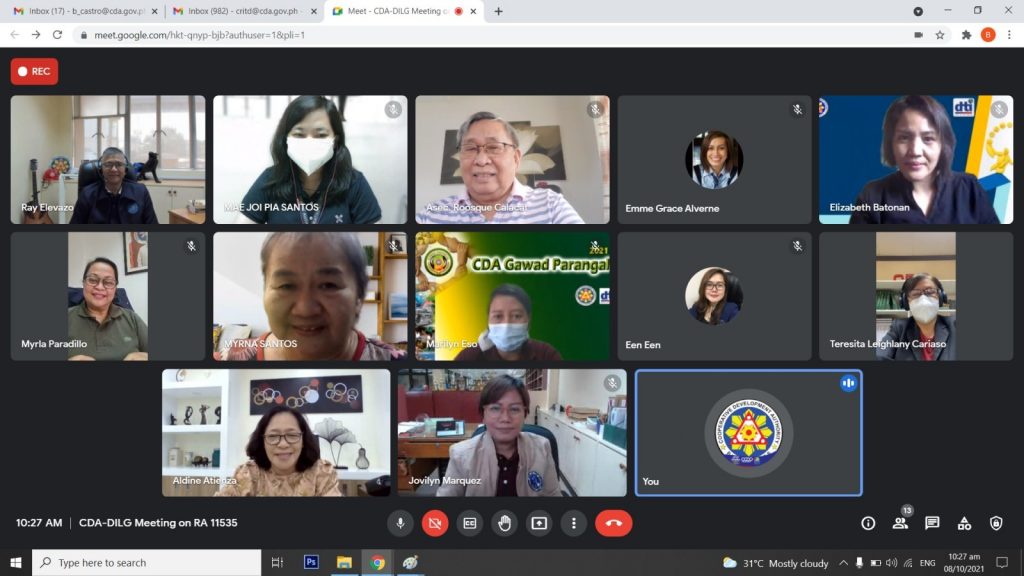 Last October 8, CDA Board Director and Acting Administrator Asec. Myrla Paradillo, Institutional Development Services (IDS) Deputy Administrator Ray Elevazo, and their team from the Cooperative Research, Information, and Training Division (CRITD) met with Assistant Secretary for Community Participation for Barangay Affairs Roosque Calacat of the Department of Interior and Local Government (DILG), and Batangas Provincial Cooperative, Livelihood and Entrepreneurial Development Office (PCLEDO) Head, Ms. Celia Atienza to discuss about the implementation of R.A. No. 11535.
Republic Act No. 11535 is a legislation signed by Pres. Duterte last April 9, 2021, which mandates the creation of the position of Cooperatives Development Officer (CDO) in all municipals, cities, and provinces in the country. The group also discussed how to cascade cooperative programs at the barangay level.
In the said meeting DILG Asec. Calacat expressed his unequivocal support on the three initiatives laid by CDA, namely:
Orientation of barangay officials about CDA and its cooperative developmental programs;
Revitalization of CDA's partnership with DILG; and
Joint CDA-DILG Action to drumbeat R.A. No. 11535
Asec. Calacat also suggested that CDA tap the league of barangays, league of municipalities, and league of provinces as partners in these initiatives. Trainings for barangay officials about CDA's development programs can be conducted so that barangays will be well aware of the cooperative programs that CDA is offering. Asec. Calacat also promised that DILG shall issue a strong advisory in assistance to CDA's initiatives, highlighting the fact that cooperativism is part of the national government's socio-economic programs and so it should be implemented at the provincial, municipal, and barangay levels.
This productive meeting is seen as a step towards stronger collaboration between DILG and CDA. This will surely redound to better public service as information about CDA programs and activities for cooperatives and their members will be easily accessible in the municipalities and barangays.