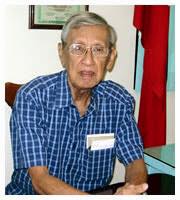 Atty. Florencio Sotto Corral, one of the pioneering members of the CDA Board of Administrators passed away last Sunday afternoon at age 87. His remains lie in state at Loyola Chapel, Commonwealth Ave., Quezon City.
During the maiden year of CDA, Atty. Corral served as its Interim Executive Director while the agency was looking for the first Executive Director. He earned his law degree at Lyceum of the Philippines in 1955. He finished his MBA at University of Wisconsin USA in 1968.
A one time Director of the Agricultural Credit and Cooperatives Institute (ACCI), Atty. Corral has that distinction of being involved in the formulation of RA 2023 Non-Agricultural Act (1960s) to RA 6938 and CDA being a member of the Technical Working Group who crafted the bills. He was instrumental to the conceptualization and implementation of the ILO funded project named Cooperative Entrepreneurship for Rural Development (ILO-CERD). He was likewise got involved in the ILO INDISCO project for indigenous peoples cooperative.