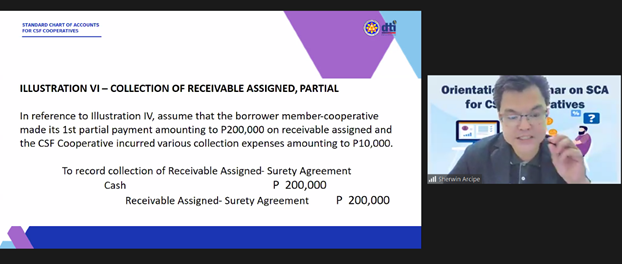 QUEZON CITY – The Credit Surety Fund (CSF) Service, spearheaded by the Inspection and Examination Division (IED), held an Orientation-webinar on the Standard Chart of Accounts (SCA) for CSF Cooperatives, last February 8, 2022. The event was participated by 155 CSF cooperative officers as well as CSF personnel from CDA Head Office and Regional Offices.
Chief CDS of IED, Atty. Joanne N. Limpin explained the rationale and objective of prescribing the appropriate SCA for CSF Cooperatives. She stressed that the nature of business in which a CSF cooperative is engaged necessitated the crafting of an SCA that is specially designed for it.
The webinar aims to brief every one of the participants on the accounts peculiar to CSF Cooperatives as opposed to accounting for regular cooperatives, as guidelines to ensure uniformity and common understanding of accounts.
Atty. Limpin also talked about the basic concepts, definitions of peculiar accounts, and discussed sample journal entries during the organization of a CSF cooperative.
Mr. Sherwin Arcipe, Sr. CDS assigned at the CDA Region I Office and a CPA, presented the proper journal entries pertaining to the business operations of the CSF cooperative.
During the open forum, one of the concerns raised by participants was about the external auditors' orientation on SCA for CSF Cooperatives. Atty. Mona Liza Arriba-Juarez, CSF Service Director, remarked that the matter would be coordinated with the Regulation Division for possible conduct of separate orientation. Other issues mentioned include the treatment of LGU contributions, imputed income, provision for probable losses, unremitted contributions, and statutory funds, which Atty. Limpin and Mr. Arcipe clearly and amply explained.
Hosted by the IED, the event was participated by the chairpersons, treasurers, accountants, bookkeepers, and other officers of the registered CSF Cooperatives nationwide, and the CDA CSF Section personnel.