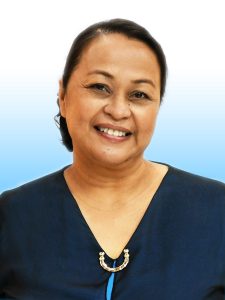 ---
Administrator Myrla B. Paradillo was born on March 12, 1970 in Misamis Oriental. She was married to Mr. Celestino Paradillo and a mother of two handsome children. She finished her Masters Degree in Public Administration at the Polytechnic University of the Philippines Sta. Mesa, Manila.
Ms. Paradillo started her career in the Cooperative Development Authority (CDA) as Private Secretary I of former Adm. Soc Anthony M. del Rosario. After the term of Adm. del Rosario, she was appointed again as Private Secretary I of former Chairman Lecira V. Juarez and after the term of the latter, she was reappointed as Private Secretary I of former Chairman Emmanuel M. Santiaguel.
After the end of her term as Private Secretary I of the CDA in 2014, Ms. Paradillo continued to serve the public through working in the cooperative sector which gave her long and wide experiences and helped her to see the cooperative movement as a whole. By learning the true scenario in the cooperative sector, she was able to identify the strategies to be formulated and policies to be strengthened in order to improve the cooperative welfare.
On August 23, 2018, President Rodrigo R. Duterte signed her appointment paper as Administrator representing Luzon vice former Adm. Eulogio T. Castillo. She assumed office on August 31, 2018 and will serve a term of six (6) years.
HON. MYRLA B. PARADILLO
Board Member III