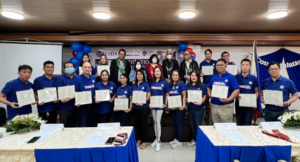 The Cooperative Development Authority Regional Office 10 congratulates twenty-four (24) TESDA Scholars who recently graduated from MASS-SPECC Cooperative Development Center, completing eight hundred eighty five (885) hours of the Cooperative Development and Management Level (CDM) IV course last January 9, 2023. The training course covered five (5) months which started from July 18, 2022- November 28, 2022.
MASS SPECC Cooperative Development Center which is the first cooperative accredited by TESDA to conduct the said course consisting of competencies that a person must achieve to establish a cooperative, develop quality products and services, develop human resources, practice good governance, ensure safety and sound operation, and contribute to social, economic and environmental sustainability.
Attended by TESDA -10 Provincial Director for Misamis Oriental, Ms. Marigold Cherie R. Garrido and CDA-10 Regional Director, Mr. Aminoden A. Elias, the graduation ceremony was successfully held at the MASS-SPECC Development Center in Cagayan de Oro City last January 9, 2023. The twenty-four (24) TESDA Scholars who graduated, were cooperative managers and members of the Board of Directors from different cooperatives in regions 9,10, 11 and 12. The official list of graduates as released by MASS-SPECC Cooperative Development Center are as follows:
1. Roderick B. Almero – FARB MPC
2. Marilou A. Ananangkil- Tugop Tigwahanon Tribal Indigenous Agriculture Cooperative (TUTITRIA COOP)
3. Japhet L. Bagares – Kamelon People's Water Service Cooperative
4. Larry Recel B. Bongolto – First Agrarian Reform Credit Cooperative (FARCCO) "A SUBSIDIARY OF FARMCOOP"
5. Sarrah Mae T. Cagatin- Himaya Farmers Multipurpose Cooperative
6. Adrian Rodolf T. Casinillo- Oro Savings and Sharing Cooperative
7. Leif Ericson C. Castillo- Canitoan Transport Cooperative
8. Ceriel A. Clarion- Lalibertad Farmers Multipurpose Cooperative
9. Arlyn C. Dedicatoria- Oro Savings and Sharing Cooperative
10. Kelly Mary Y. Delos Reyes- KCMPCO
11. Anicita H. Dioso- Maranding Women Investors Multi-Purpose Cooperative (MWIMPC)Nepthali Dwight O. Donasco- Philippine Association of Agriculturists
12. Arturo Gustavo S. Eustaquio – Banco Cooperativa De Zamboanga
13. Dannelly L. Fuentevilla- Dinas CMPC
14. Ruden B. Gomez – DIMAVEMC
15. Jhonna B. Lapesigue- Metro Iligan Transport Service Cooperative
16. Temoteo T. Lomongo- Shota Credit Cooperative
17. Nora S. Longno- ALNEMPCO
18. Alex N. Maglangit – Dalipuga Transport SVC Cooperative
19. Jingle C. Mingoc – Golden Friendship Eco Friendly Transport Cooperative
20. Ariel S. Padigos – Sta. Monica Bukidnon Multipurpose Cooperative
21. Joie C. Saquilayan- Oro Integrated Cooperative
22. James Arnell S. Semitara- Nagpakabana Multipurpose Cooperative
23. Cecil R. Talaba – Southern Iligan Transport Service Coop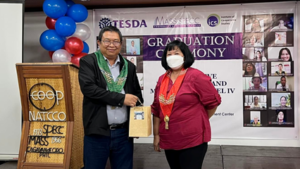 Kudos to all the graduates and a big gratitude to TESDA Region 10 for continually supporting learners and a huge appreciation to the Board of Directors and Officers of MASS -SPECC Cooperative Development Center, especially to MASS -SPECC CEO, Ms. Bernadette O. Toledo, CPA, trainers, Mr. Romulo M. Villamin, Ptr. Cromwell Esteban C. Rabaya and the rest of the training staff who personally facilitated and assisted all scholars to complete the training course.