RESILIENCE AND REVITALIZATION

The Lala Fishermen Cooperative (LAFICO) was organized on December 2, 2019, by the ordinary fisher folks of Lala Municipality during their first meeting. The group consisted of veteran cooperators from various cooperatives organized since the late 1960s and in the new millennium. During the time of their earliest organizational meeting, LAFICO was in the process of dissolution.
Before their cooperative registration, their group received a  government grant from the Bureau of Fisheries and Aquatic Resources (BFAR) and other various assistance in realizing the "inclusive growth" and "poverty alleviation" program of the government, particularly in the fishing sector. BFAR has provided hundreds of fisher folks with fishing gears and even capital for entrepreneurship to begin or expand existing fishing livelihood or industry.
In the organizational meeting, the group decided to obtain juridical personality by applying for registration with the Cooperative Development Authority. On March 3, 2020 LAFICO was registered as Fishermen Cooperative type with registration number 9520-1010000000049899
FISHING GROUND PANGUIL BAY – GOD's GIFT
"The environment is God's gift to everyone, and in our use of it we have a responsibility towards the poor, towards future generations, and towards humanity as a whole."— Pope Benedict XVI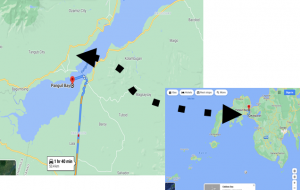 This gift of the fishery sector transforms many families living in extreme poverty, providing them with a livelihood hence providing their families with better income and help them for long-term sustainability. One of the municipalities enjoying the bounty of Panguil Bay is Lala, a first-class municipality in the province of Lanao del Norte. Panguil Bay is an arm of Iligan Bay that forms the natural boundary separating the Zamboanga Peninsula from the rest of the island of Mindanao. It borders the provinces of Misamis Occidental, Zamboanga del Sur, and Lanao del Norte. This is the main operating area of LAFICO members.
COASTAL RESOURCE DEPLETION
Food consumption in this area has increased dramatically due to population growth.  However, with the introduction of advanced fishing technology/techniques to the fishing community, no laws were passed to protect Panguil Bay from exploitation and over-fishing.
SOLUTIONS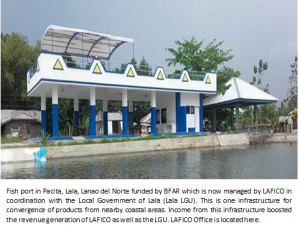 The main objective of the newly formed LAFICO was to address the pressing problem of poverty created by the over-exploitation of Panguil Bay. Specifically, they aim to:
Provide Infrastructure to Intensify Fishery Resources Production and Marketing and Fishery Resources Storage and Processing
Rely on fish farms where humans breed and control the populations of fish in man-made bodies of water or fish pens and fish cages.
Create designated fishing areas along major fishing depots
Restricted areas will be left alone so that populations can re-grow over a period of 3-5 years
The group is optimistic about these 4 major goals. They are committed to achieving what they failed to do in the past years with the cooperative. They come together with resolve and with full support from various government agencies.
MAIDEN YEAR
In June and July 2020, LAFICO harvested 7.8 tons of milkfish. At the end of the year, the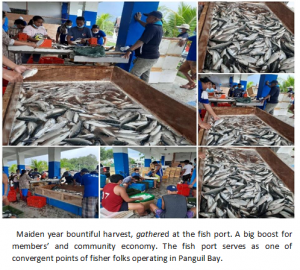 cooperative was able to bring in a total of 21.4 tons of harvested milkfish with an estimated value of more than 2.5 million. For a young cooperative like LAFICO,  their members are optimistic that they can achieve these 4 ultimate goals that they set for their cooperative.   The first goal is to make a designated area for fishing along with the major fishing depots. The second goal is identifying a large part of the mangroves area for fishing only so that the fish population can re-grow. The third goal is finding ways to control the population of fish in man-made fish pens and cages. The final goal is creating a product of deboned and marinated milkfish that can capture a good market that can compete with some established brands of the same product in the market.
As of today, it is still a bridge too far to cross and articulate LAFICO a success, yet in a year's time the main 4 objectives were seized. It is a matter of sustaining whereby on each individual members' economic prosperity and social harmony we can all say this is a cooperative success story. Today LAFICO succeed to say: YES, WE CAN DO IT! – apc-ldn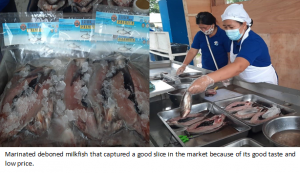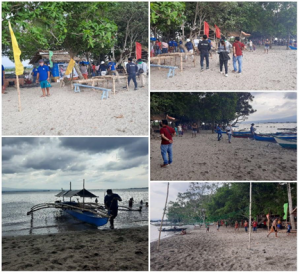 A beach and recreational facility near the mangrove area. Conserving nature, restrict fishing and earn from recreation. Another income boosting activity of LAFICO. The area is now a fish sanctuary where fishing is prohibited.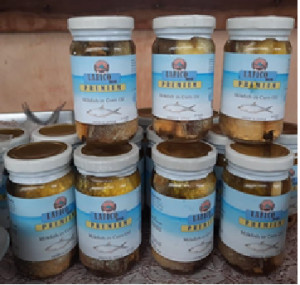 Another product developed by LAFICO is the Milkfish in corn oil French Style.