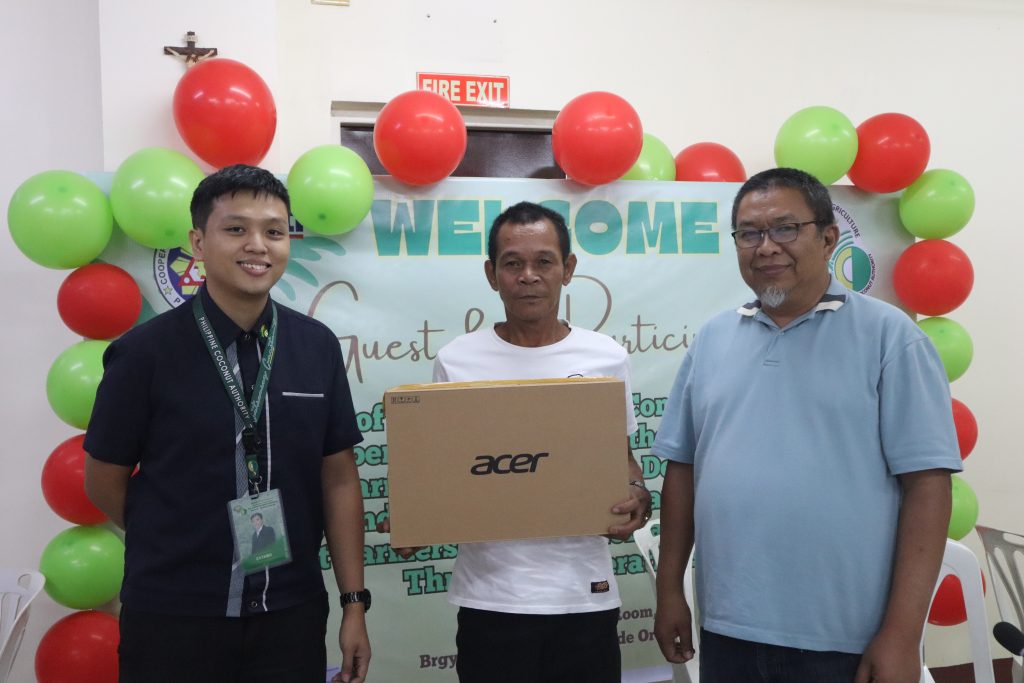 On June 01, 2023, Ten (10) cooperative coconut farmers received a laptop/desktop from CDA-PCA Partnership in the implementation RA 11524: The Coconut Farmers Industry Trust Fund Act and the Coconut Farmers Industry Development Plan (CFIDP) under the major component on organization and empowerment of coconut farmers through cooperatives program.
The beneficiaries who received the laptop/desktop were identified based on MC 2023-10- Guidelines on the Release of Laptop/Desktop Computer to Coconut Farmers Cooperatives (CFCs) in the Implementation of Coconut Farmers Organization and Empowerment Through Cooperatives.
The laptop/desktop was awarded to the Ten (10) Coconut Farmers Cooperatives, to wit:
Beray Coconut Farmers Agriculture Cooperative

Jasaan Coconut Farmers MPC

Sugbongcogon ARB MPC

Tuod Farmers Cooperative

Calatcat Farmers MPC

Taparak Farmers MPC

Alternative Concern and Support to Livelihood MPC

Tubaran MPC

Nagkahiusang Ipalambo and Katawhan ug Kinaiyahan MPC (ORGANIKK MPC)

Bacnit Sagay MPC
The activity was indeed very special because majority of the CDA Board of Directors witnessed the momentous event. Hon. Asec. Pendatum B. Disimban, CDA Board/Head of the CMPL delivered his warm message to the cooperative beneficiaries. Also, Asec. Abdulsalam Guinomla, CDA Board/ Head of the Education and Advocacy Cluster; and Asec. Virgilio R. Lazaga of the Agriculture cluster gave their inspiring messages. Present also was Mr. Ralph Estaño, Project Development Officer from the Philippine Coconut Authority Region 10 who witnessed and gave his congratulatory message to the beneficiaries of the office equipment in behalf of the Regional Manager Manuel Octubre.
Sr. CDS of CPDAS, Ms. Betty Balaba briefed the cooperatives on the contents of the Memorandum of Agreement before the actual signing and as a reminder for their commitment and the term of reference for their acceptance of the equipment. After which, Ms. Ma. Isadel S. Atrigenio, CDS II and MIS In-charge gave the briefing/orientation on the use and maintenance of the laptop and the desktop.
In the spirit of fairness, the distribution was done thru the roulette, which made the process so exciting and enjoying. 
In closing, the CDA 10 Regional Director, Mr. Aminoden A. Elias  gave a  heartwarming thanks to the Board of the CDA for their presence; the Philippine Coconut Authority 10, CDA Staff; and the Coconut Farmers' Cooperatives for the success of the activity.
This activity- the releasing of the laptop and or desktop has been looked up to and hoped for by all coconut farmers' cooperatives as this will help them in their operation and compliance with the CDA reports and in their day to day operations. 
This is only the first batch of the release and it is expected that another batch for the remaining units will be released to those deserving and compliant coconut farmers' cooperatives.