When CoViD 19 came and the world stood still, the activities of the Cooperative Month Celebration was limited to virtual, and or online. Now, that restrictions on community gatherings are loosened, the cooperatives came in groups to once again care for the environment.
As a traditional activity during the Cooperative Month Celebration in Region 10, a Mangrove Planting and Growing day was done on October 8, 2022. A total number of 58 Cooperatives and 889 cooperative leaders and members gathered in Puntabon, Bonbon, Cagayan de Oro City for the once a year activity.
The Mangrove Planting and Growing is an activity that is looked forward to. Aside from allowing us to witness the rising of the sun, we get to feel the refreshing sea breeze, and to see the beauty of the mangroves that we helped in growing. The Mangroves that has become the sanctuary of the sea resources, home to a lot of seafood, and creating ecological balance.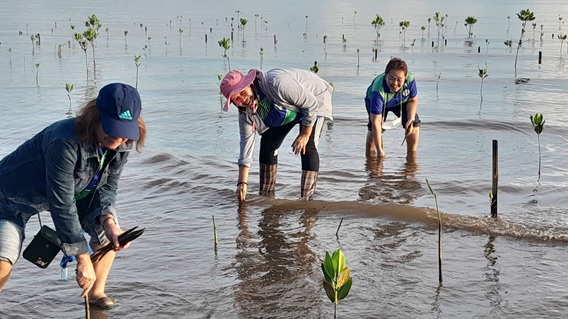 It has been part of the advocacy of the cooperative movement of the Region to care of our ecology, and to practice in its truest essence, the principle of Concern for the Community and the Environment. For this year, even the Holistic Therapeutic Blind Masseurs Cooperative joined this year's mangrove planting, with the blind members being assisted by the abled members.
The activity was spearheaded by the RCDC 10, and with the Youth Cooperative for Ecological Protection and its Moderator, Dr. Lydia Tubella, Ph. D. in the thick of the preparations. Making sure that there will be mangules to plant, bamboo sticks and rope to tie the mangules so they stay in place and not to be washed out by the tide, and the "pampa init" of everyone who took part. This year, we had the "pandesal," coffee, milo, and cooked "gabi" or taro root.