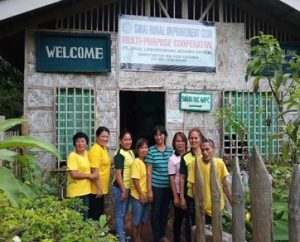 Started by 15 local women from Barangay Sinai, Laguindingan, Misamis Oriental, a Rural Improvement Club was organized in 1986, with an initial capital of Php 1,000 pesos and Php 5,000 cash incentive from the Department of Agriculture in Region X. Membership of the organization continued to grow, and as it recruited more and more members, the club was finally registered as a cooperative in 1991. It was registered with the Cooperative Development Authority Region 10 as Sinai RIC Multi-Purpose Cooperative. It is recognized by the Rural Improvement Club of the Philippines and certified as a barangay-based organization by the Municipal Agriculture and Fisheries Council of Laguindingan.
Initially, its main services include credit and marketing. The cooperative offers micro-financing and other types of loans to members. It is engaged in rice and corn trading and marketing of other agricultural products. Over the years, it has expanded its business operations and ventured to other endeavors such as catering, fruit wine production, and vermiculture production. With the abundance of assorted vegetables and fruits grown by the members, the cooperative sells them at the Weekend Market located at the Misamis Oriental Provincial Capitol Grounds, where fresh produce is being sold by different groups.
At present, the cooperative has 98 members with almost 3 million total assets as of December 31, 2019. Members of the cooperative consist of farmers, agrarian reform beneficiaries, livestock growers, and self-employed individuals. Members benefits include the right to avail the cooperative's micro-financing in which some members have successfully started their businesses in fruit and food vending, copra buying, operating their consumer stores, and even managing their dragon fruit plantation.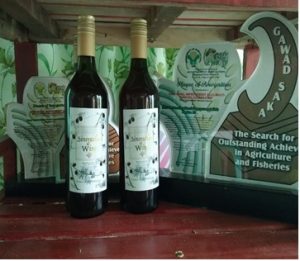 With open minds to learn something new, aside from current services, members tried producing fruit wine made from Sineguelas. The cooperative decided to venture into winemaking using the said fruit because Laguindingan is famous to have an abundant supply of Sineguelas during its peak season. With the help of training and grants from other government agencies, the production of said product was made possible. They are proud to have produced the first Sineguelas Wine in the region and they hope to be known not only in Mindanao but in the whole world.
Through good practices and effective management, Sinai RIC Multi-Purpose Cooperative proves to be worth emulating. Aside from the good numbers shown in its latest financial statements and a significant increase in its total assets from the previous year, the cooperative has proven to be a model organization which has displayed continued success in its operations by reaping accolades from different agencies. The following are the awards and recognitions that the cooperative has received over years: Regional Gawad Saka Awardee of the Department of Agriculture for 2015, 2016, and 2018; Outstanding Improvement Club for 2002 and 2018; 2nd prize winner in the Kuyamis Landscaping last January 2020 and most importantly, the cooperative was awarded the Most Outstanding Primary Cooperative – Micro Category in the 2019 Regional Gawad Parangal of the Cooperative Development Authority.
Officers and members of the Sinai RIC Multi-Purpose Cooperative however do not stop there. They promise to stay committed to doing their best and aim to further improve the quality of their products and services. But for now, we cannot just discount the fact they have done a good job. As the saying goes, "Success usually comes to those who are looking for it", indeed, Sinai RIC Multi-Purpose Cooperative has found it.