Mambajao Credit Cooperative (MCC)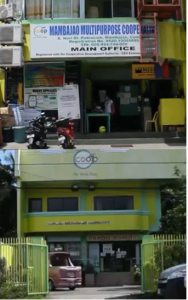 was the first cooperative in Camiguin registered with CDA. It was organized in 1967 through the initiative of a certain Jesuit Missionary Priest by the name of Father William F. Masterson, SJ. It started with 50 members having a total capitalization of Php 1,000.00 only. Its purpose was to alleviate the economic condition of the people from unscrupulous money lenders or loan sharks and to uplift their quality of life. The cooperative was registered on July 17, 1970, under RA 2023 under Registration No. 002606 in the Cooperative Administration Office (CAO), the forerunner of the present Cooperative Development Authority (CDA). On September 20, 1991, MCC's registration was approved under Confirmation No. CR-CGY-175, following the provisions of Republic Act 9520 or the Philippine Cooperative Code of the Philippines. In compliance with the said Republic Act 9520, it was re-registered and amended on May 5, 2017, to change its name to MAMBAJAO MULTIPURPOSE COOPERATIVE (MMC) under Registration No. 9520-1005895 with Cooperative Identification No. (CIN) 0105100078 and Amendment No: 9520-10005895-2. Under its new name, MMC aims to strengthen and protect local coops; promote coop's self-regulation, and to strengthen government regulation.
Area of Operation / Financial Standing
MMC's area of operation covers the entire Region X focusing Camiguin Island and the entire Misamis Oriental.  It operates in 4 branch offices:  Mambajao Branch since March 19, 1967, Catarman Branch operating since August 28, 2003, Balingoan Branch since April 8, 2006, and Mahinog Branch since September 8, 2016. Its main office, a three-story building, is standing majestically at E. Neri St., Poblacion, Mambajao, Camiguin. Recently, MMC constructed the new Balingoan Branch Building with PINOY KOOP ATM service and soon will operate its hostel services. PINOY KOOP ATM was also added to Mambajao Branch to expand its services to its members. MMC's current asset as of December 2020 is ₱556,004,416.00; Total Net Income is ₱27,167,168; a Loan Portfolio of ₱295,804.390 with a total of 19,944 members.
 Activities
Throughout the year MMC has been involved with various community programs in Health Care, Support to Education, Environmental Protection, Responsible Consumption & Production, Civic Activities, Gift Giving to Less Fortunate, and Poverty Alleviations activities.
MMC was also the recipient of the Presidential Management Staff (PMS) of their school building project as MMC served as a conduit of the aforementioned project.  With the PMS fund, MMC was able to construct 12 school buildings on the entire island of Camiguin.  MMC was also a conduit of the Philippine-Australian Community Assistance Program (PACAP) whose programs provide direct assistance to the non-government organization (NGO) to fund community-based projects which aimed at raising the living standard of the poor and the marginalized Filipinos.
Due to the selfless and dedicated services of MMC's officers and management, and its outstanding contribution to the promotion and development of rural enterprises, the latter has received many awards given by the different agencies.  To name a few, in 1996 MMC won 1st place of the LBP's Gawad Pitak Program at the provincial level and bagged 2nd place at the regional level.  On November 13, 1998, CDA has recognized MMC as the outstanding cooperative in the province of Camiguin with the Highest Average Incremental Capital Build-up and Savings.  From 1999 to 2003, MMC was the Provincial Winner for the Most Outstanding Cooperative in the province of Camiguin under the credit category.  On October 27, 2005, CDA recognized MMC as the most efficiently managed community-type cooperative based on C.O.O.P. P.E.S.O.S. Performance standard.  On March 31, 2007, and May 27, 2012, NATCCO awarded MMC as the Top Western Union Location, and from April 2007 to the present, MASS-SPECC awarded MMC as the Most Outstanding Time Depositor.  From 2008 to 2020, NATCCO and MASS-SPECC awarded MMC as Outstanding Cooperative who has full CETF R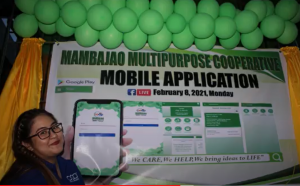 emittance, and just this year 2021, MMC is a nominee of CDA's GAWAD PARANGAL.
On February 8, 2021, MMC launched its very 1st MMC Mobile Banking Application as part of its plan to go Digital. MMC's Online and mobile banking aims to do just about everything with a few clicks from a member's computer or smartphone.  One of its many features includes the ability to monitor members' deposits, view loans, and loan application status, pay loans via different payment modes, and all other services accessible at one click of the finger.
Affiliations:
MMC is affiliated with the Provincial Cooperative Union in Camiguin, the Regional and the National Level Federation – MASS-SPECC & NATCCO.
It is also one of the 10 coops (C-10) in Mindanao that is part of the project of Socio-Economic Development through Cooperatives in the Philippines (SEDCOP) thru the National Confederation of Cooperatives (NATCCO) in partnership with MASS-SPECC which monitors closely the whole operations of the coop.
Continuously, MMC involves networking with other non-government organizations/entities, giving services to its members in the community.  The cooperative wishes to develop and heighten its awareness of environmental stewardship.
Management and Staff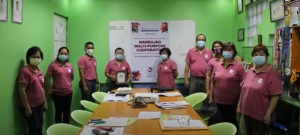 MMC desires to maintain and achieve an effective smooth flow of its business operations. It is mandated to have a well-trained pool of personnel to implement the policies set forth, for its operation.
MMC Head Office is located at Poblacion Mambajao and it has four branches, Mambajao, Catarman, Mahinog, and Catarman Branch with a total of 81 employees including Regular and Probationary Employees.
The management structure is patterned in such that the granting of the loan is in the hands of professional staff with responsibilities and accountabilities properly defined at different levels.  The ambitious plan of the management is to become a billionaire coop by the year 2022.
To make it possible, expanding its areas of operations in the province and the mainland by putting up business centers are one of its major plans.
The management and staff did not forget their social obligations.  They support various government programs, especially during this pandemic. Road signs were also put up on the highways a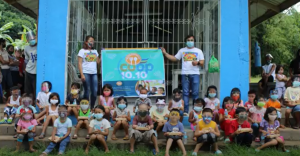 nd signage/directions are placed in strategic places throughout the island.  Help was given and extended to the identified poor families and inmates.
The feeding program was also done to selected schools and communities. Development and awareness activities are aligned for MMC to be socially and spiritually involved in order not only to benefit its members but also to the people in their community. #