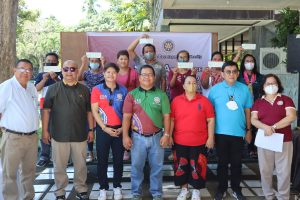 Usec. Joseph B. Encabo, along with the other CDA Board Members, Asec. Myrla B. Paradillo, Asec .Vidal Villanueva III, Asec. Pendatun Disimban, and Asec Boy Lazaga, awarded the Special Assistance for Recovery and Alleviation (SARA) to five (5) micro cooperatives in Camiguin and one (1) in Misamis Oriental on June 2, 2022 at Duka Bay, Medina, Misamis Oriental.
The assistance was intended for cooperatives who were severely devastated by Typhoon Odette on December 17, 2021. This is to aid them in recovering their business performance and operations despite the destruction caused by the calamity.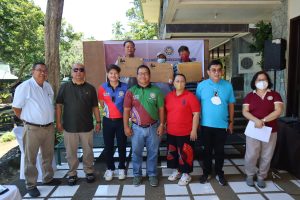 In the provinces of Camiguin and Misamis Oriental, a total of Three Hundred Fifty Thousand Pesos was distributed to cooperative beneficiaries, with the following breakdown: 1) Camiguin Transport Service Cooperative – Php100,000.00 2) Agoho MPC – Php50,000.00 3) Cantaan Centennial MPC – Php50,000.00 4) Bacnit, Sagay MPC – Php50,000.00 5) Nagpakabana MPC – Php50,000.  San Juan Water Service Cooperative of Balingasag, Misamis Oriental also received financial assistance in the amount of Php 50,000.00.
Meanwhile, three (3) micro cooperatives have received new laptop computers through the efforts of Chairman Joseph B. Encabo. The recipients were chosen randomly through a raffle held by CDA Region 10 among the different micro coops across the region. Maliwanag Maigo Cooperative, Danao Rural Improvement Club & CARP Beneficiaries MPC, and Mabini Water Service Cooperative came out as winners. Chairman Encabo hoped that the gadgets will help in reportorial compliance and allow them to keep up with the demand for digitalization in their operations.
With cooperativism in the forefront of his thoughts and heart, Usec. Encabo promised that CDA will bring more programs and projects to support cooperatives around the nation, with small and micro cooperatives receiving priority consideration.  (Teresita B. Wagas)