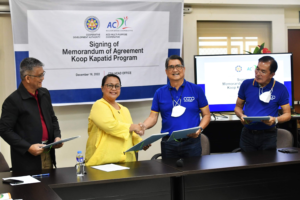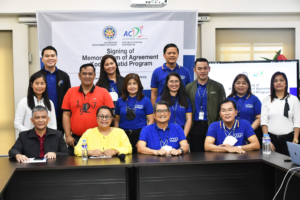 On December 16, 2022, the Cooperative Development Authority (CDA) signed a Memorandum of Agreement (MOA) with the ACDI Multipurpose Cooperative in a ceremony held at CDA Head Office, Quezon City. The partnership is in line with the CDA's Koop Kapatid Program where both organizations will jointly assist micro and small cooperatives to ensure their submission of mandatory reports to the Authority.
ACDI MPC is one of the billionaire cooperatives operating in the country today existing for more than forty (40) years and with an asset of Php 50 Billion pesos.
The Agreement stipulated that ACDI MPC will deploy their Certified Public Accountants (CPAs) to pre-identified micro and small cooperatives to assist them in the preparation of their Financial Statements. This initiative will provide a great opportunity for the cooperatives to have their audited financial statements submitted to the CDA.
During the Signing Ceremony, ACDI MPC Chairman, MGen Gilbert S. Llanto AFP (Ret) shared how their cooperative started.  They were also once a small cooperative that sought the help of a big cooperative.  Eventually, they improved and were able to gain for the benefit of their members.  He expressed that it is high time to give back and be of service to the cooperative sector specifically in the provision of assistance to micro and small cooperatives.
The CDA, in this event, was represented by Board Member and Acting Administrator, Asec. Myrla B. Paradillo.  She extended her appreciation and gratitude to ACDI MPC for this undertaking.  Further, with the resources and competence of ACDI MPC, she expressed her high hopes that the objective of this partnership will be achieved. This will ascertain the compliance of micro and small cooperatives in the submission of financial reports.
The signing ceremony was also attended by ACDI President, MGen Jovito P. Gammad AFP (Ret), and staff and CDA Deputy Administrator Ray R. Elevazo, Institutional Development Service, CDA NCR Regional Director Pedro T. Defensor, and other staff.
The CDA-ACDI Partnership is indeed a milestone for both parties which will intensify the implementation of the Koop Kapatid Program. The CDA hoped that thru this initiative, other billionaire and millionaire cooperatives will be encouraged to adopt the same such as the provision of assistance to micro and small cooperatives, and become an instrument of growth and development of other cooperatives. C.Reyes-CPDAD