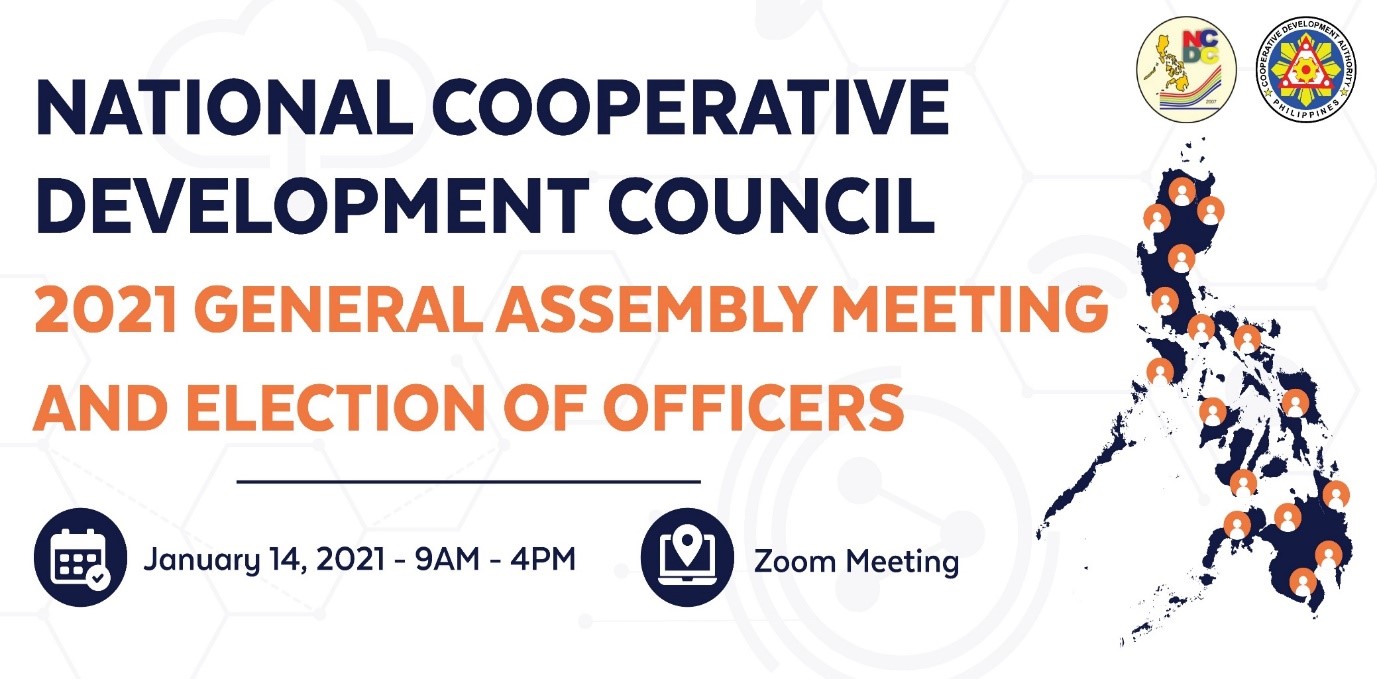 Last January 14, 2021, the 2021 NCDC General Assembly Meeting and Election of Officers was convened through virtual (online) meeting, using the Zoom platform, and was spearheaded by the CDA and NCDC Executive officers.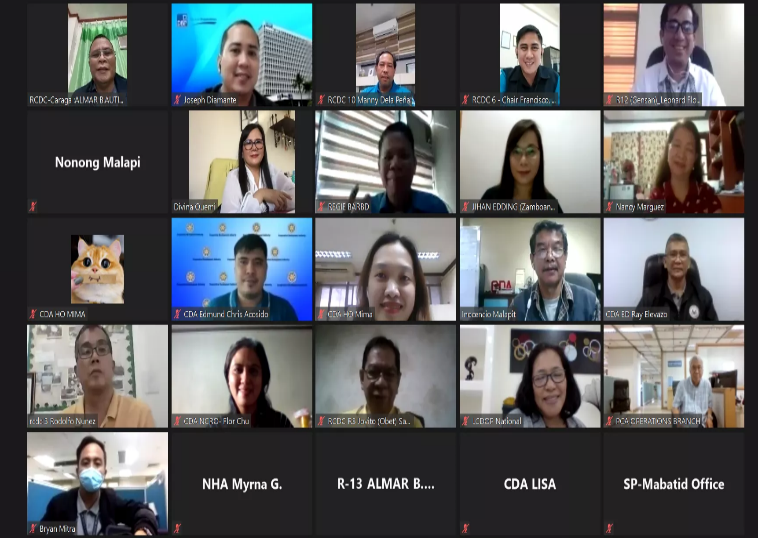 The meeting was attended by Chairpersons of 14 Regional Cooperative Development Council (RCDC) and representatives of different national government agencies such as DILG, DAR, NHA, PCA, TESDA and participated in by government financial institutions such as BSP, ACPC, DBP and LBP.  Present also were representatives from the PUP, Dr. Hilda F. San Gabriel; the Chairperson of PCC, Mr. Garibaldi Leonardo; the President of LCDOP Ms. Celia Atienza; and, Ms. Nancy Marquez representing CUP.
CDA Executive Director Ray R. Elevazo started the General Assembly with his stirring opening remark, averring that he looks forward to a stronger and prepared NCDC.  Emphasizing and recognizing the vital role of NCDC, he said that NCDC is a significant pillar in the consultative mechanism, policy consultation and program development of CDA for the cooperative sector and as stipulated in RA 11364.
Engr. Felix Tabasa, NCDC Chairperson, welcomed the participants with words of gratitude and encouragement for the upcoming new set of NCDC officers to create new policies and programs for the better normal and better environment of the sector. ASec. Myrla B. Paradillo, CDA Board of Director and Oversight Chairperson for Cooperative Development Councils, shared her message highlighting the importance of unity and solidarity in this challenging time.  She emphasized that the practice of cooperatives' vision and mission and core values must always be in mind in any endeavor.
Mr. Edmund Acosido, PhD., Executive Assistant IV, representing Chairperson Orlando R. Ravanera, expressed the earnest hope that CDA and the Council will work hand in hand and continue to make a difference in the lives of the cooperative members across the country as well as in the communities.
Meanwhile, in the business meeting of the NCDC, Chairperson Felix Tabasa gave his report as well as the Treasurer, Ms. Nancy Marquez, on the financial standing of NCDC. Cooperative Programs were also presented by DILG, DAR, TESDA, BSP, ACPC, DBP and LBP, where each organization underscored their program's significance and necessity to the cooperative sector.
The election of officers of NCDC highlighted the assembly meeting. Newly elected 2021 NCDC officers, who took their Oath of Office before Executive Director Ray Elevazo, are the following:
Chairperson                  :         Ms. Lucy G. Furo, RCDC NCR
Vice-Chairperson         :         Mr. Al Avon Jay Francisco, RCDC VI
Secretary                      :         Ms. Divina C. Quemi, RCDC I
Treasurer                      :         Ms. Nancy F. Marquez, CUP
Auditor                         :         Mr. Manny Dela Peña, RCDC X
Previous officers of NCDC were Engr, Felix Tabasa (RCDC Reg 11) Chairperson; Celia Atienza (LCDOP) Vice Chairperson; Lucy Furo (RCDC-NCR) Secretary; Nancy Marquez (CUP) Treasurer; Lilia Castillo (RCDC-2) Auditor; and, Geraldine Lamson (PCC) Assistant Treasurer. (KHAMIMA M. MAMA)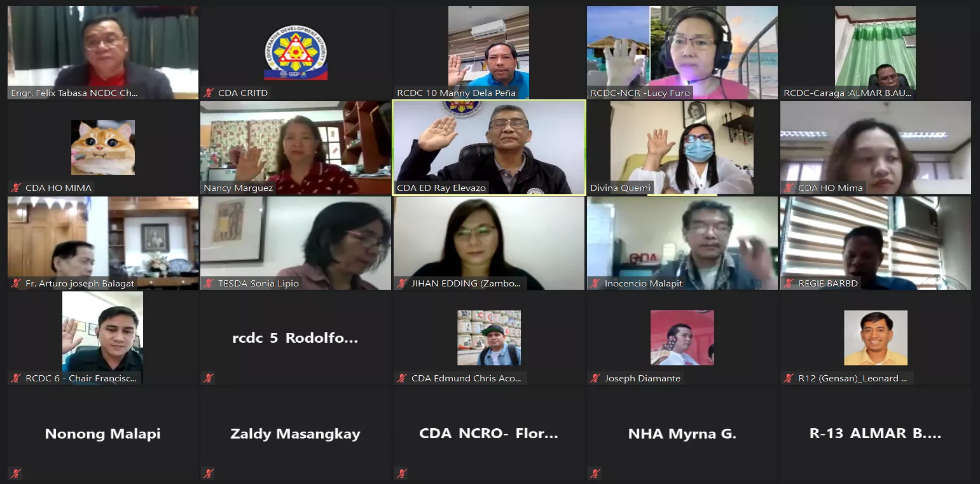 CDA Executive Director Ray R. Elevazo administering the oath taking of the new NCDC Officers. He conveyed his earnest greeting to the new set of officers and to all the attendees.