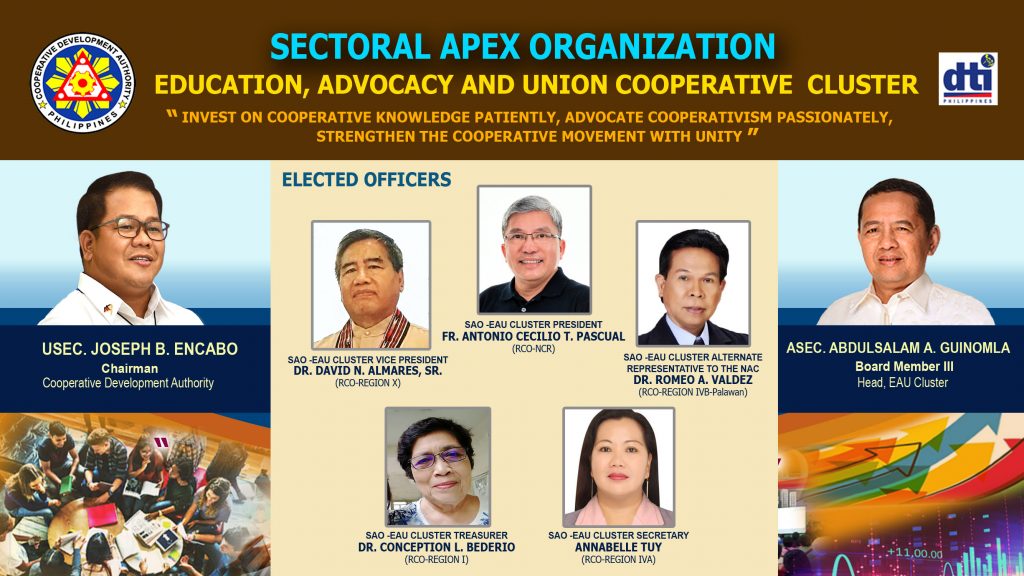 On June 23, 2021, the Sectoral Apex Organization (SAO) for the Education, Advocacy, and Union Cooperatives (EAU) Cluster convened a general assembly via the Zoom platform to elect five (5) leaders in the SAO-EAU Cluster.
            The meeting was spearheaded and presided by Asec. Abdulsalam A. Guinomla as the CDA Head of the EAU Cluster. He also administered the oath of office.  It was attended by twelve (12) Regional Clustered Organization (RCO) Presidents out of the thirteen (13) qualified RCO Presidents nationwide. 
            The elected officers were Fr. Antonio Cecilio T. Pascual of Union of Metro Manila Cooperatives (NCR) as President, Dr. David N. Almares, Sr. of the Cooperative Union of Iligan City (Region 10) as Vice President, Dr. Romeo A. Valdez of Palawan Cooperative Union (Region IVB-Palawan) as Alternative Representative to the NAC, Ms. Annabelle Tuy of Tagalog Cooperative Development Center as Secretary, and Dr. Conception L. Bederio of La Union Provincial Cooperative Union (Region I) as Treasurer.
            The meeting was graced by no other than CDA Chairperson Usec. Joseph B. Encabo, who celebrated his birthday on that day. Present with him were CDA Board of Directors Acting Administrator and Asec. Myrla B. Paradillo, Asec. Virgilio R. Lazaga, Asec. Pendatun B. Disimban, Asec Abad L. Santos, and Asec Vidal Villanueva III.  
            During the meeting, Asec. Guinomla laid down the rationale for the establishment of the RCOs, SAOs, and the NAC. He reiterated that the creation of the said organizations is within the bounds of law. Asec. Guinomla said that he hopes that the RCOs, SAOs and NAC will become the true voice of the cooperative sector and act as a catalyst of cooperative development and positive change in the cooperative movement, following its mandate.
            Also, present during the said meeting where Atty. Elizabeth O. Batonan, Director of LRRD, Atty. Frederick Joe N. Robles, Attorney IV, Legal Division and counsel of EAU Cluster, the 16 Regional Directors of the CDA, and some RCO Officers, as observers. – (Atty.FJRobles)