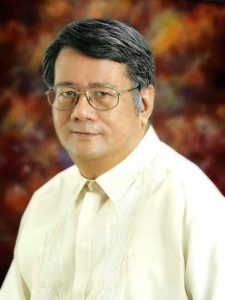 A Brief Biography of Atty. Niel A. Santillan prepared and delivered by Deputy Executive Director Giovanni T. Platero during the necrological service in honor of the late Executive Director
When the newly appointed Board Secretary called the roll of the CDA officers, it calls to mind the punctuality of a dear friend and my boss Atty. Niel in every Execom meeting and almost all convocation activities. That virtue that imbibed in the work traits of our departed friend is the fruit of the positive work ethics he acquired in the private sector where he served as Legal Aide, Legal Officer and Assistant Personnel Manager in the early part of his career. That same virtue influenced most of his colleagues and subordinates in the CDA that put to life the weekly recitation of Panunumpa ng Kawani ng Gobyerno which states that: "Ako ay papasok ng maaga at magtatrabaho nang lampas sa takdang oras kung kinakailangan.". In all occasions and Execom meetings, I cannot recall the time he came late nor excused to be absent. That same virtue was manifested in him even at the time of his death.
If there was one person that can incisively unravel every aspect of CDA, he was ATTORNEY NIEL ADURRU SANTILLAN who is popularly known as "Sir NAS" or "Atty. NAS" to CDA family. His mother, a former trial court Judge, had immensely influenced this fellow whom he considered as an icon and eventually followed her footsteps pursuing the study of law at the University of the Philippines immediately after finishing AB Philosophy in the same university. The youngest among the four siblings born under the Zodiac sign Virgo characterized with "great practicality," he passed the Bar in 1986 with the close guidance of his mother. His education and trainings molded his character to be analytical, meticulous and able to pay attention to the slightest details of every issue.  He learned early the idiosyncrasies of the CDA family members since he was one of its pioneering employees starting his career as Chief of Legal Division of the agency in 1991. That stint signaled his gradual climb to the ladder of the organization and ultimately coveted the highest post handling the operation as Executive Director of the agency until his last breath.
His stint as Director of Tuguegarao, Calamba, Cebu and National Capital Region CDA Regional Offices nurtured him to learn the dynamics and rudiments of cooperative field operations which widened more his perspective. As a matter of fact he was the lone CDA Executive to be given the opportunity to assimilate the peculiarities of cultures of those areas as a result of the scores of re-assignments in the past. His displacement from one area to another is more of an opportunity than to take it to mean as menial treatment of his capabilities and skills. His exposure to the very heart of field operation strengthened his passion to be in touch directly with the grassroots and clienteles. Those exposures galvanized his full grasp of the sensitivity and fundamental needs of the regional offices which brought the wealth of experiences when he was tasked to assume the responsibility of Acting Executive Director at the CDA Central Office in 2001 and later as full pledged Executive Director in 2003.
Unknown to many that even when the time that he was relieved of his administrative responsibility manning the operation for almost one-and half years to focus his energy and talent on helping the present administration to put value-added to the image of the CDA, he had the liberty and ample time pounding his thoughts and ideas on how the seeds of CDA quality policy that he helped sow come to fruition as an ISO Certified Organization. His humble contribution as Quality Management Representative paid off. The logical conclusion: the CDA and the five extension offices were catapulted to a rare distinction as ISO Certified offices! Truly, Sir NAS displayed the hallmark of being a Career Executive Service Officer during that challenging moment of assuming that Special Concern assignment in discovering new paradigm and introducing innovations. This was perhaps augmented by his education as student of Strategic Business Economics Program taken from the University of the Asia and Pacific which put into practice the academic theories and principles he acquired.
One might ask: Was the life of Atty. Santillan dull and drudgery? Of course some might conclude as such, given the propensity of his academic and work portfolio. On the part of his family and closest friends perhaps they would know. For those who witnessed him travel carrying pocket book, they might tempt to conclude that he lived a monotonous life as he is a voracious reader of best-selling novels. Most of us had never seen him dancing or singing in any organizational social frolics. But mind you, during his light moments, he loved listening country songs and music. He was also an avid follower of UAAP, NBA and PBA basketball games.
As a family man, he exemplified great sense of responsibility and valued education too much as he sent his children to best schools. As member of Couples for Christ, he put premium to taking care of the welfare of family. A caring husband to Arlene and doting father to Miki, A.C. and Kay is an attribute that is worthy of emulation. A paragon of humility and simplicity.
As a Virgo-born individual, he researched his options thoroughly before deciding on anything. He displayed laser focus and calculated choices in dealing with issues. This is the reason why he did not dare to take risk of taking position on sensitive and controversial issues on cooperative matters without the benefit of careful study.
When I had that opportunity of working with Sir NAS during his term as Director of CDA Calamba Extension Office, I can share happy moments. I can also recollect those moments of pressures and adversity especially when we accepted the hosting of the year 2000 National Cooperative Summit at Tagaytay City. That was the time when the Summit was originally planned to be held at Zamboanga City. Because of the perceived peace and order problem, the CDA Top Management that time posthaste transferred the venue in Tagaytay City. We had barely 6 months to prepare. We were worried that time because we already signed contract with the venue and other suppliers for an amount reaching to 10 million pesos for the logistics needed for the summit. Three months before the event, we had only 300 thousand in our coffer! But because of the management savvy of Sir NAS, we were able to generate funds more than enough to foot the bill for the summit.
My friends, ladies and gentlemen those were the days with Atty. Santillan.
Traditionally, the death of our love ones left us in sorrow and grief. But today, we treat his death as a celebration of life beyond the earthly experience as we all know that our beloved friend, the departed husband, the departed father, and departed companero to some of you is now free from stress, free from pressure and free from controversies as he joined our Creator submitting a report card that he lived his life to the fullest. A report card telling our Creator that by his good deeds, he had influenced us and left an indelible mark in our minds. We will posthumously honor him by reminiscing and recollecting our respective experiences with him while living.
As the institution which nurtured his values during his formative years where he spent his basic education, the institution where he sent his eldest son to get quality education, it is just fitting to paraphrase the Atenean Motto in this "celebration of life." For you were once in darkness, you are now light in the Lord. Live as the child of light, for light produces every kind of goodness, righteousness and truth.
His deathmomentarily leaves us in sorrow and grief but he will live forever in our heart.
Goodbye Sir NAS. May you rest in God's peace!