After almost four (4) months of searching for most outstanding performers on cooperative development at the national level, the CDA conducted its Gawad Parangal 2013 Awarding Ceremony on October 9, where the Agency honoured the Most Outstanding Cooperatives, Leaders and Cooperative Development Offices in the country at SMX Convention Center, SM Mall of Asia, Pasay City.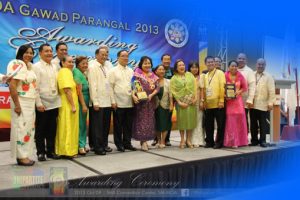 The Awarding was attended by some 1,000 people coming from different areas of Luzon, Visayas and Mindanao representing the cooperative sector, the Local Government Units and other key players of the cooperative movement, who at the same time participated in the 6th National Tripartite Conference for Cooperative Development.
Honorable Chairman of the Cooperative Development Authority, Dr. Emmanuel M. Santiaguel, in his Opening Message, acknowledged the awardees who for him "embodied the very essence of cooperativism to a "T".He also added that "their individual and collective efforts, in one way or another, steamrollered the cooperative advancement and development in their areas of operation and motivate others into a concrete collective actions".
This year's awardees of CDA Gawad Parangal are:
MOST OUTSTANDING COOPERATIVES, MICRO SCALE CATEGORY
3RD – R05 Mother Seton Hospital Employees Credit Cooperative | Naga City
2ND – R06 Subaspa MPC | Lapu-Lapu City
1ST – R11 Manuel Guianga & Sirib Growers & Employees MPC | Davao City
MOST OUTSTANDING COOPERATIVES, SMALL SCALE CATEGORY
3RD – Dingle Gov't Workers Dev't Cooperative | Iloilo City
2ND – A & M MPC | Dinagat Islands
1ST – 1st Watchlife Workers MPC | Bataan

MOST OUTSTANDING COOPERATIVES, MEDIUM SCALE CATEGORY
3RD – Calapan Labor Service Dev't. Cooperative | Oriental Mindoro
2ND – Bagong Barrio MPC | Bulacan
1ST – Diffun Saranay and Development Cooperative | Quirino

MOST OUTSTANDING COOPERATIVES, LARGE SCALE
3RD – R07 LAMAC MPC | Cebu City
2ND – R10 ORO INTEGRATED COOPERATIVE | Cagayan de Oro
1ST – R11 TAGUM COOPERATIVE | Tagum City, Davao del Norte

MOST OUTSTANDING COOPERATIVE FEDERATION
R01 – Nueva Segovia Consortium of Cooperatives | Caoayan, Ilocos Sur
MOST OUTSTANDING COOPERATIVE UNIONS
3RD – Cordillera Administrative Region Cooperative Union | Baguio City
2ND – Cooperative Union of Taguig and Pateros | Taguig City
1ST – Negros Oriental Union of Cooperatives | Dumaguete City

MOST OUTSTANDING COOPERATIVE LEADERS
3RD – R02 – Ms. Marciana D. Foryasen | Diffun Saranay and Development Cooperative
2ND – CAR – Ms. Emerita C. Fuerte | Cordillera Administrative Region Cooperative Union
1ST – R07 – Dr. Sylvia L. Flores | Dumaguete Cathedral Credit Cooperative

MOST OUTSTANDING LGU COOPERATIVE DEVELOPMENT OFFICES
3RD – Municipal Cooperative and Entrepreneurship Development Office of Llanera, Nueva Ecija
2ND – Provincial Cooperatives Development Office of Isabela
1ST – Provincial Cooperative Development Office of Batangas
SPECIAL CITATION:
EXEMPLARY ENVIRONMENTAL PROTECTION AND CONSERVATION PROGRAM
Calapan Labor Service Development Cooperative | Oriental Mindoro
REMARKABLE COOPERATIVE SOLIDARITY AND PARTNERSHIP PROGRAM
Holy Cross Savings and Credit Cooperative | Valenzuela City
OUTSTANDING COMMUNITY INVOLVEMENT AND DEVELOPMENT PROGRAM
Lamac MPC | Pinamungajan, Cebu
EXCELLENCE IN MEMBERSHIP GROWTH AND EXPANSION
Oro Integrated Cooperative | Cagayan de Oro City