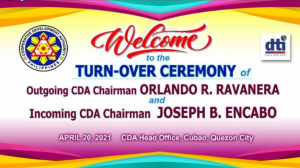 April 20, 2021 – In a ceremony conducted, the turnover formally signals the change of command and transfer of responsibility from the CDA outgoing Chairperson to the incoming Chairperson.
WELCOMING NEW RESPONSIBILITIES
Sec. Lopez welcomed Usec. Joy "to assume his new role in the CDA", mentioning that they had numerous joint projects and collaboration between DTI and the current administration led by President Rodrigo Duterte.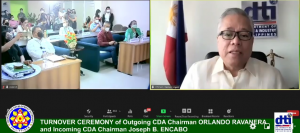 "He is a very sincere, hardworking public servant. He always works for what's good for the people, especially the grassroots", affirmed by Sec. Lopez. He gave his unwavering support and assured that he will work with Usec. Encabo in the ongoing reforms for the cooperative sector, and for the good of the people.
"Life is a journey and it take us to a path that we cannot turn our backs, moments like this define what character we are made of.", Usec. Encabo in his inspiring message for the CDA and the cooperative sector. "The essence of a public servant is to help in nation-building, and that is what CDA is all about.", he further stated.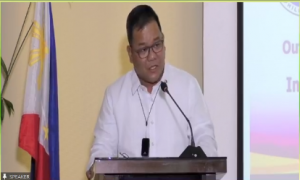 Usec. Encabo bids the CDA Board of Directors and CDA employees to join him in this journey to overcome the hurdles of the cooperative sector. He stated that his vision to lead the agency was born the moment he saw the obstacles of the CDA, that he is a servant-leader and a co-worker, and encourages to do Magis or to do more.
"How do we serve the cooperative sector?", is a question he left the CDA with. Usec. Encabo ends his speech that "the best is yet to come", which the CDA family, cooperative sector and development partners eagerly await.
BIDDING FAREWELL
Outgoing Chairperson Orlando Ravanera provided his message, stating his appreciation to the CDA Board for their support throughout his 6-year term. "The agency never lacked in its principles and stance, I am really proud of all the personnel of the agency. Hindi po tayo nagkulang sa ating paninindigan.", Usec. Ravanera said.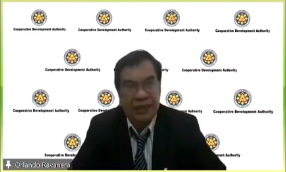 He also stated that the CDA stood side by side with the cooperative sector, fulfilling moral and social responsibility for the cooperatives and the country. Usec. Ravanera gracefully welcomed Usec. Joseph "Joy" Encabo, as its Chairperson, certain that he will lead the cooperative sector to greater heights.
"Allow me to thank the passionate and hardworking outgoing Chairman Orlando Ravanera for the many years of dedicated service", stated DTI Secretary Ramon Lopez for Usec. Ravanera's decades-long service to CDA, the cooperative sector and the Filipino people.
The turnover ceremony was attended by the CDA Board of Directors, officers and employees, as well as the cooperative sector and partners in cooperative development. Usec. Encabo, who hails from Davao, was appointed by President Rodrigo Duterte on April 13, 2021. You can watch the recorded video of the turnover ceremony here http://tiny.cc/turnoverceremony (Cherryl B. Marders)