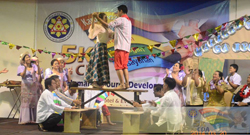 Subic Bay– 521 CDA personnel from all over the country  participated in the 3rd National Human Resource Development Program of the Cooperative Development Authority (CDA) at Subic Bay Freeport Zone (SBFZ).The CDA Central Office and 16 Regional Offices paraded around SBFZ in an array of colors, representing their regions and as a show of force that CDA is indeed united.
This yearly event again  showed the camaraderie, teamwork, cooperation and unity among CDA officials, officers and staff as  exhibited through various activities in the 5-day event. Among the activities joined by the participants are the:
Learning Sessions for Directors and Supervising CDS; Senior CDS and CDS II; Legal Officers; Supply Officers, Accountants, Budget Officers, Bookkeepers and Cashiers; HRM Officers and Administrative Staff; and Drivers and Utilities;
Quiz Bee Contest;
Production Number; and
LarongPinoy.
The participants commented that what they appreciated most is the holding of learning sessions which were designed to discuss topics and subjects suitable for every employee.  New and additional learnings are very useful in the discharge of the employees' respective functions. They are hoping that the HRD will be continually conducted annually to re-energize CDA staff in a fun and learning experience. One personnel commented, "the very essence (of the program) is the meeting of every fellow CDA servant and alignment of every perspective programs and functions".
The holding of the yearly CDA HRD also serves as the inspiration of   personnel to work hard and accomplish their respective targets.
In the activity evaluation form given to all participants, about 80% rated the National HRD Program to be Very Satisfactory, and is said to reinvigorate and strengthen working relationships among CDA personnel.
Updates on CDA matters were also given by officers from Central Office such as:1) Philippine Cooperative Medium Term Development Plan (PCMTDP) as lectured by Planning Chief Teresita Leighlany Cariaso; 2) Strategic Performance Management System (SPMS), Systematic Findings re QMS and Compliance to CSC Report Card 2014 discussed by Officer-in-Charge Giovanni Platero, Office of the Executive Director; and 3) CDA Charter Amendment presented by Administrator Mercedes Castillo; as well asInformation on Peace Process by Undersecretary Yasmin Busran-Lao, Office of the Presidential Assistant for Muslim Concerns.
The CDA National HRD Program, one of the three point agenda of the agency, was held onMarch 17-21, 2014 at Travelers Hotel, Subic Bay Freeport Zone. The program aims to establish support systems and structures to develop human resource of Authority. (Cherryl B. Marders)