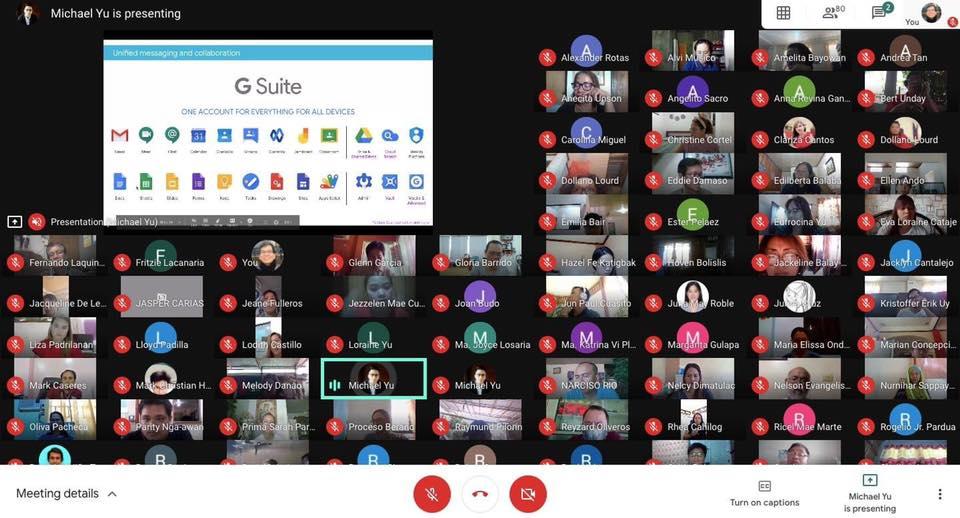 At the height of the extension of the ECQ in various part of the country until May 15, 2020, the Kollab Group (the premiere partner of Google International in the Country) today conducts the last leg of on-line G-suite training among CDA personnel. This is the biggest number of attendees among the four batches of IT training that was planned, organized and implemented by the MIS (IT) Unit of the CDA. The 84 personnel converged from Region 1 (Tuguegarao City) to CARAGA Region (Butuan City) using the google meet platform to equip themselves on various G-suite applications to respond to scores of challenges brought by the Enhanced Community Quarantine (ECQ). This ECQ isolated the CDA workers and confined themselves at home as a result of the agency's adoption of Work-From-Home (WFH) scheme in order to minimize the risk of being exposed to COVID-19 contamination.
Immediately after the training various participants gave reactions. "Pwede na yung mga simple system namin na ginawa sa region thru Google sheet collaboration." Reyzard D. Oliveros of CDA personnel based in Calapan Ciity enthused. "Nagstart na agad ako ng google calendar synchronization" Edilberto Sager of CDA Marinduque Province quipped. "This a very useful training to our work." Atty Fritzie Lacanaria of CDA Cebu added. "Magagamit namin sa coop training ang google forms particularly attendance, survey, research, etc." Mary Ann Concepcion of CDA Palawan emphasized.
The target of 160 participants in four-hour session each for all four batches of training exceeded by the actual attendance of 240 staff because of the eagerness of the CDA personnel to capacitate themselves on the appropriate technologies to make their work efficient in capturing and reporting to the public the various noble contributions of the Philippine cooperatives in COVID-19 pandemic.
The on-line training was designed and coordinated by Bonifacio Garcia of the CDA IT Unit and conducted by Michael Yu of Kollab Guru, the premier partner of the Google International in the country.
---
Like, Follow and Share CDA Philippines