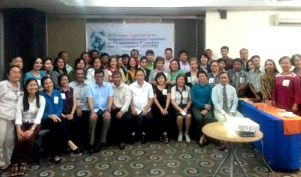 The Cooperative Development Authority (CDA) convened the National Coordinating Committee on Cooperatives Promotion and Development (NCCCPD) as the lead government agency on cooperative monitoring, development and regulation.  The organization of the NCCCPD is in compliance with the stipulation of Executive Order No. 95 issued by Former President Fidel V. Ramos, that "all government branches, instrumentalities, subdivisions and agencies with programs and projects concerning cooperatives to coordinate such programs and projects with the CDA with a view of providing a comprehensive technical and financial program for cooperatives".  It also served as a networking mechanism of the CDA with partner government agencies to promote and implement programs relative to cooperative development.
With the new dimensions of the CDA Road Map which was crafted under the leadership of Chairman Orlando R. Ravanera, CDA gathered all the partner government agencies and NCCCPD members to a conference on March 22, 2016 at Greenhills Elan Hotel Modern, Greenhills, San Juan City.  The conference aimed to get the support of government agencies and members of the NCCCPD and envisioned to integrate such blueprint with the existing strategies, plans and programs of government agencies and NCCCPD members towards the attainment of more efficient and effective government service for the cooperative sector.
The 2016 Annual Conference of the NCCCP was attended by 29 government agencies led by the Department of Finance, CDA's mother department.  The other participating agencies were as follows:  Bangko Sentral ng Pilipinas (BSP), Insurance Commission (IC), Philippine Deposit Insurance Corporation (PDIC), Department of Agrarian Reform (DAR),  6) Department of Agriculture-Agricultural Training Institute (DA-ATI), Department of Environment and Natural Resources (DENR),  Department of Science and Technology (DOST), DOST-Technology Application and Promotion Institute (DOST-TAPI), Department of the Interior and Local Government (DILG),  Philippine Coconut Authority (PCA), Bureau of Fisheries and Aquatic Resources (BFAR), Land Bank of the Philippines (LBP), Development Bank of the Philippines (DBP), Social Security System (SSS), Small Business Corporation (SBC), Philippine Crop Insurance Corporation (PCIC), Housing and Land Use Regulatory Board (HLURB), National Housing Authority (NHA), National Home Mortgage Finance Corporation (NHMFC), National Food Authority (NFA), National Water Resources Board (NWRB), Metropolitan Waterworks and Sewerage System (MWSS), Intellectual Property Office (IPO), National Youth Commission (NYC),  Office of the Transportation Cooperatives (OTC), National Anti Poverty Commission (NAPC), National Electrification Administration (NEA), and the Polytechnic University of the Philippines (PUP).
The NCCCPD Annual Conference was graced by CDA officials led by Administrator Paisal I. Cali, Executive Director Ray R. Elevazo, Deputy Executive Director Giovanni T. Platero and Institutional Development Department Director Fe D. Caingles.  Deputy Executive Director Platero emphasized in his opening remarks the need to make the collective efforts and deliverables of interventions of government agencies more concrete so that it will be appreciated at the grassroots level and that the ultimate development felt by the cooperative beneficiaries and members. In the message of Administrator Cali, he stressed that CDA is trying its best to balance its roles in terms of regulation and development of cooperatives.  Despite the minimal budget of the agency, it has been providing technical assistance for the development of cooperatives.  He accentuated the significance of this NCCCPD Conference to strengthen the relationship with government agencies, coordinate and integrate plans and programs to maximize the resources of the government and achieve optimum results.
Executive Director Elevazo presented the CDA Road Map which was crafted as a result of several meeting, conferences and 13 cooperative sectoral congresses conducted last year.  It was followed by the presentation of the different participating agencies on their programs and projects on cooperatives and other programs and projects that could be tapped by cooperatives.
In the closing, Executive Director Elevazo, reiterated the request for support of the different government agencies in the attainment of the deliverables of the CDA Road Map.  He also offered the assistance of the CDA in the implementation of their programs and projects.   Since result of this conference affirmed the need for collaboration among government agencies to effectively deliver its services to the public. (Maria Corazon G. Diwas)