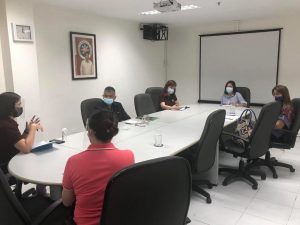 POSSIBLE CONVERGENCE. Cooperative Project Development and Assistance Division (CPDAD) Acting Chief Cherry Reyes, Cooperative Research, Information and Training Division Senior CDS Cherryl Catrina B. Marders and Registration Division Acting CDS II Rhodora Fernando provided technical support by briefly discussing programs of their respective units, to the PCW chairperson and staff Ms. Marcela Riberta.
In a bid to further empower women, specifically during the Women's Month every March, the Cooperative Development Authority (CDA) and the Philippine Commission on Women (PCW) discussed possible tripartite partnerships between the two national agencies and the cooperative sector.
PCW Chairperson Sandy Sanchez-Montano extended a proposal, a special program for women on a strategic gender approach, to form various women's group into cooperatives, which was eagerly welcomed by Executive Director Ray Elevazo by suggesting how CDA can provide assistance in terms of registration, capability training and support in project development and linkaging of products.
The purpose of the proposed special program is to break the double standards that women encounter in every aspect of their lives, especially those who are in the grassroots and those who are willing to avail of opportunities outside of their comfort zones.
The dialogue aims to provide substantial foundation for women in all sectors of life, by starting with organizing a cooperative, and going forward and upward from there. (Cherryl Catrina B. Marders)