The 8th episode of the Koops eForum held on September 22, 2020 was successfully conducted by the CDA once more, spearheaded by the Cooperative Research, Information and Training Division (CRITD).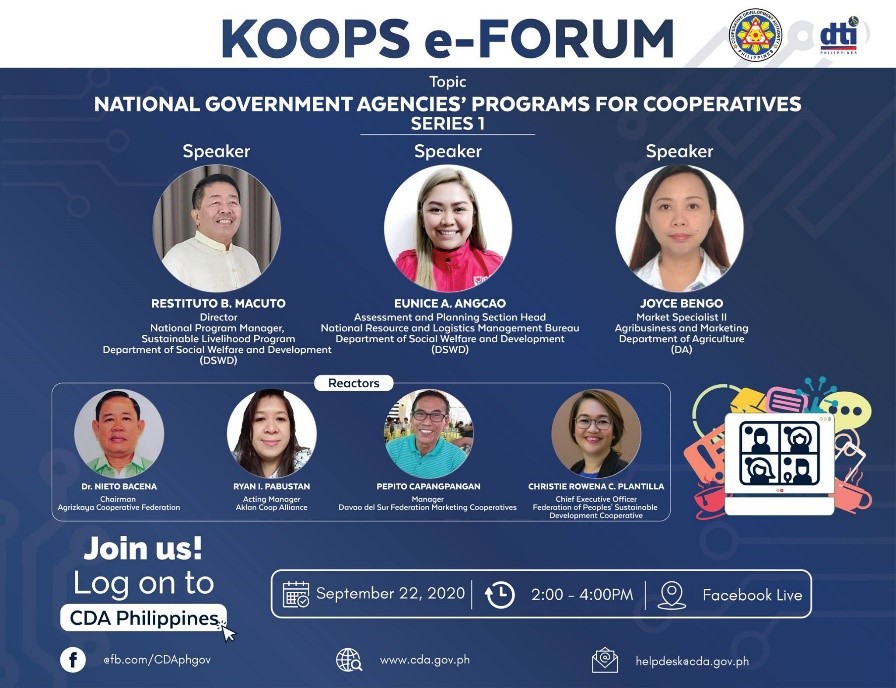 Usec. ORLANDO R. RAVANERA, Chairperson, set off the tone of the discussion with his message for the speakers, reactors and viewers, followed by Mr. RAY R. ELEVAZO, Executive Director, who expounded on the partnership of CDA with invited National Government Agencies (NGAs).
The CDA Koops eForum, entitled NATIONAL GOVERNMENT AGENCIES' PROGRAMS FOR COOPERATIVES, Series 1, were participated in by NGAs, represented by the following as resource speakers: Mr. LUIS DANIEL S. DE LA CRUZ, Partnership Building Unit Head, Sustainable Livelihood Program, National Program Management Office and Ms. EUNICE A. ANGCAO, Assessment and Planning Section Head, National Resource and Logistics Management Bureau, both from the Department of Social Welfare and Development (DSWD). They discussed topics on DSWD's Sustainable Livelihood Program and Family Food Packs (FFPs) Program for Cooperatives, respectively. The Department of Agriculture was represented by Ms. JOYCE BENGO, Market Specialist II, Agribusiness and Marketing who discussed the DA's Enhanced Kadiwa Programs for Cooperatives.
 Reactors for the CDA Koops eForum were Dr. NIETO BACENA, Chairman, Agrizkaya Cooperative Federation from Region 2; Mr. PEPITO CAPANGPANGAN, Manager, Davao del Sur Federation Marketing Cooperatives (DASUFEMCO) from Region 11; and Ms. CHRISTIE ROWENA C. PLANTILLA, Chief Executive Officer, Federation of Peoples' Sustainable Development Cooperative from NCR.
Dynamic discussions among the speakers and reactors were viewed by the audience, as the NGAs' programs will directly contribute to the operation of their cooperatives, as well as cooperatives that may be involved or might be interested in the programs presented. The viewers also contributed by posting their questions, comments or recommendation in the CDA Philippines FB page.
To watch the recorded video of the Koops eForum, you may click https://bit.ly/3606h8F to visit the CDA Philippines Facebook page. Please like and share the page to be updated on latest issuances, programs and activities of the CDA. You may also download below the presentations of DSWD and DA. (Cherryl B. Marders)
Resources:
DA-Kadiwa-Presentation
DSWD-SLP-Presentation
DWSD-FFP-Presentation