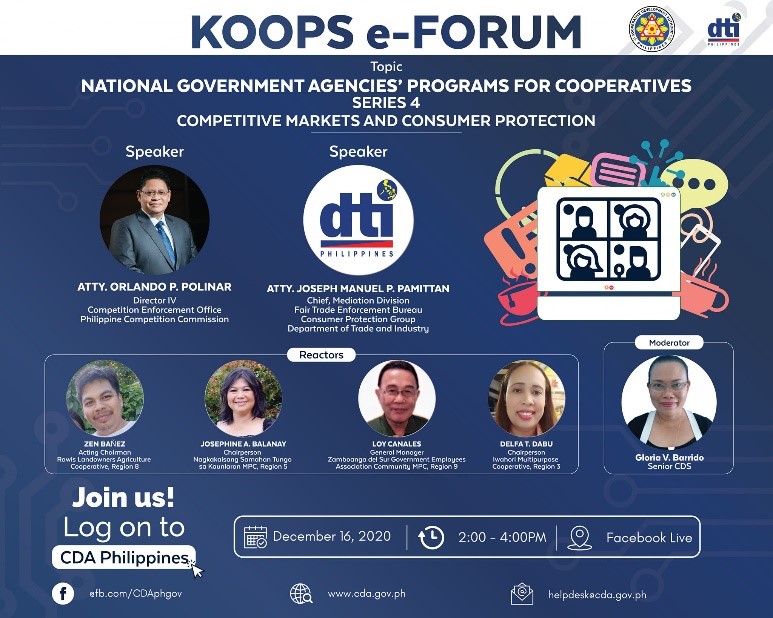 In the 13th and last episode for this year of the CDA Koops eForum on December 16, 2020, Wednesday, the topic focused on Competitive Markets and Consumer Protection programs for cooperatives of national agencies.
The agencies that graced the eForum were the Department of Trade and Industry-Fair Trade Enforcement Bureau (DTI-FTEB), represented by Atty. JOSEPH MANUEL P. PAMITTAN, Chief, Mediation Division, who discussed FTEBs Overview of the Consumers Welfare Act or RA 7394 and Price Act or RA 7581 and other general information for consumers.
While the Philippine Competition Commission (PCC), represented by Atty. ORLANDO P. POLINAR, Director IV, Competition Enforcement Office expounded on the topic PCC's Competition Enforcement.
The reactors from the cooperative sector are Mr. ZEN BAŇEZ, Acting Chairman, Rawis Landowners Agriculture Cooperative, Region 8, Ms. JOSEPHINE A. BALANAY, Chairperson, Nagkakaisang Samahan Tungo sa Kaunlaran MPC, Region 5, Mr. LOY CAŇALES, General Manager, Zamboanga del Sur Government Employees, Association Community MPC (ZAMSURGEACMPC), Region 9, and Ms. DELFA T. DABU, Chairperson, Iwahori Multipurpose Cooperative, Region 3.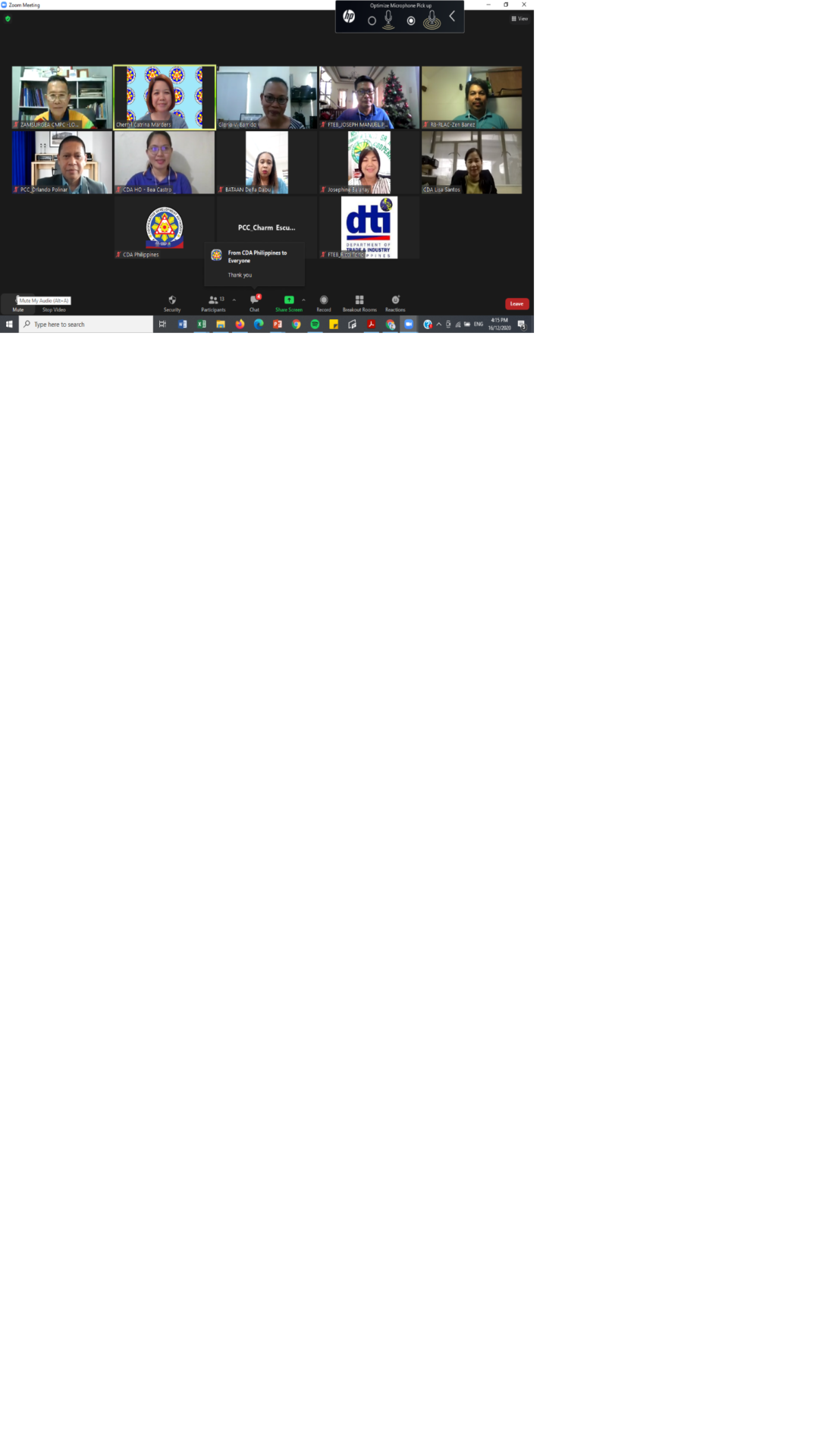 The reactors shared their questions, comments and suggestions to the resource speakers, which was ably responded by Atty. Pamittan and Atty. Polinar. The eForum was received well by the audience from the CDA Philippines Facebook Page, stating their appreciation for such information to be imparted to them, especially with the pandemic where goods and services are in uncertainty and commonly the point of issue of the general public.
To watch the recorded video of the Koops eForum, you may click https://www.facebook.com/107061480949245/videos/229230885385514 to visit the CDA Philippines Facebook page. Please like and share the page to be updated on latest issuances, programs and activities of the CDA. You may also download the presentations of PCC and DTI-FTEB attached below. (Cherryl B. Marders)
---
Resources: