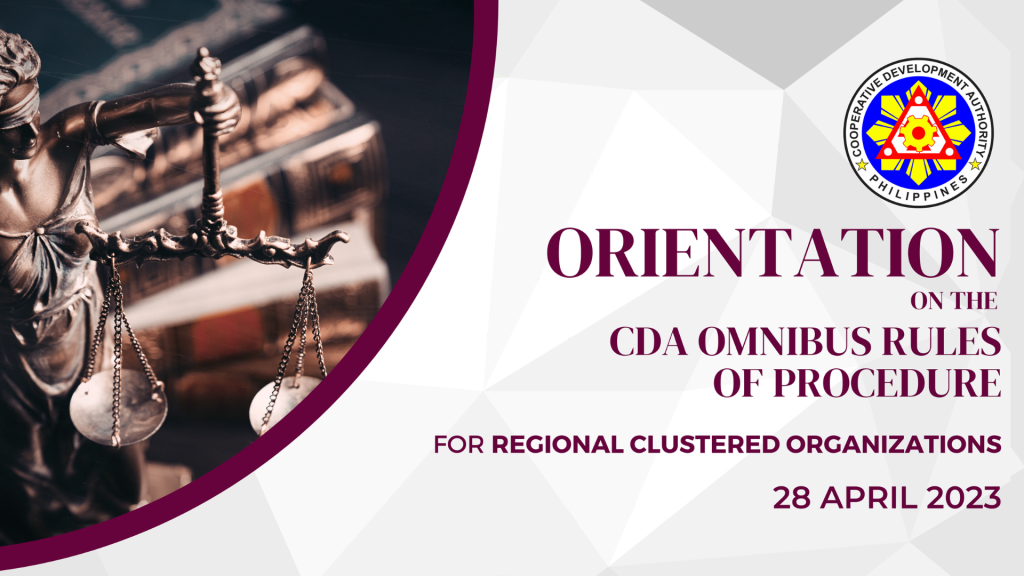 QUEZON CITY – The CDA Legal Affairs Service (LAS) – Legal Division conducted an Orientation on the CDA Omnibus Rules of Procedure for the Regional Clustered Organizations (RCOs) last 28 April 2023 through Zoom Videoconference.
The LAS initiated the webinar to inform cooperatives, through their respective RCOs, of the different remedies available to them and to broaden their understanding of the procedures under the Omnibus Rules following its effectivity last 17 December 2022.
In her opening remarks, LAS Deputy Administrator Atty. Leah B. Banagui-Han highlighted the significant role of the RCOs in the information dissemination of the Omnibus Rules. "The entity in the best position for the transmission of information about the CDA Omnibus Rules of Procedure to our stakeholders are the RCOs. We thank you for lending us your time for the interest and advancement of cooperativism," she said.
Atty. James B. Fernandez, Attorney IV of the Adjudication Division discussed the processes on Conciliation-Mediation, Dialogue, and Voluntary Arbitration, while Atty. Sheena T. Rima, Attorney III of the Legal Division, tackled the processes for Investigation, Administrative/Disciplinary Proceedings, and Dissolution, Cancellation, Liquidation Proceedings
Meanwhile, Atty. Somiranao Dimnatang, Jr, Attorney III of the Adjudication Division, explained the procedure on the Rule on Adjudication, the provision of the CDA Omnibus Rules of Procedure which vests quasi-judicial functions upon the Authority through its Adjudication Division.
To give the participants a platform to submit any questions and clarifications, an Open Forum was facilitated by the Legal Division in the latter part of the webinar. Atty. Banagui-Han was joined by Atty. August Owen Magdato, Acting Chief of the Legal Division, and Atty. Ma. Caridad dela Cruz Graza, Chief of the Adjudication Division as panelists. Notably, the participants were keen to know how the Omnibus Rules affect existing alternative dispute resolution mechanisms at the cooperative level, such as Mediation and Conciliation.
The program was closed by Atty. Magdato who gave a quick rundown of the general process flow of the Omnibus Rules. He also assured the RCOs of the quality of legal service that the CDA provides with the Rules serving as their safeguard and remedy. "The CDA Omnibus Rules [of Procedure] is the realization of the clamor of majority of all the members of various coops across the country in the speedy resolution of their cases, a recourse that may be availed of in case of disputes or concerns," he remarked.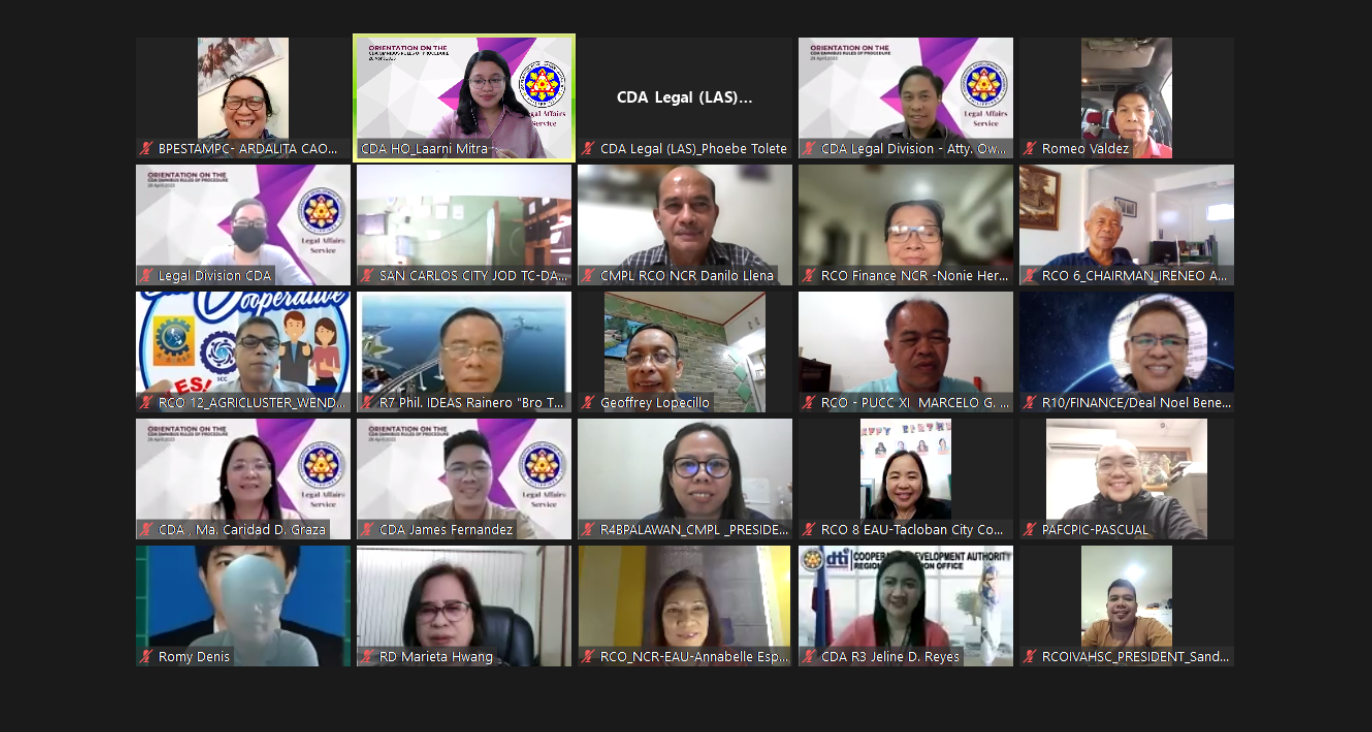 PARTNERS IN COOPERATIVISM. Participants are all smiles after a successful orientation on the CDA Omnibus Rules of Procedure.