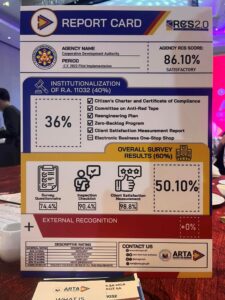 Last December 19, CDA received a Certificate of Recognition from the Anti Red Tape Authority (ARTA) during the ARTA RCS Awards Ceremony, for achieving a Satisfactory rating at the recently concluded Report Card Survey (RCS) 2.0 Pilot Implementation.
Section 20 of RA No. 11032 (Ease of Doing Business and Efficient Government Service Delivery Act of 2018) states that all agencies and offices providing government services shall be subjected to a Report Card Survey (RCS) which will be initiated by ARTA in coordination with the Civil Service Commission (CSC) and the Philippine Statistics Authority (PSA). The RCS is a holistic tool that measures the effectiveness of the Citizen's Charter in reducing regulatory burdens and the impact of the agency's human resource systems and programs in delivering efficient government services. The RCS also forms part of ARTA's Monitoring and Evaluation Plan for all covered government agencies. The result of the RCS is the basis for ARTA's awards.
Beforehand, CDA was chosen together with other government agencies for the implementation of RCS 2.0. Measuring CDA's implementation of RA 11032 including Client Satisfaction Measurement Report and the Over-All RCS Survey Results, the Authority garnered a score of 86.10%.
Representing the regional office which has the highest number of transactions, NCR Regional Office Director Jun Defensor and Registration Division Senior CDS Ermelina Racelis joined RSES Acting Director Mildred Esguerra, SED Chief Doris Teodoro, CSFS Acting Director and Finance Division Acting Chief Jojo Hallazgo, and HRDD Chief Naomi Estabillo in representing CDA and accepting the award for the Authority. Below are the pictures of the ARTA RCS Awards Ceremony 2022.
Photo credit: RSES