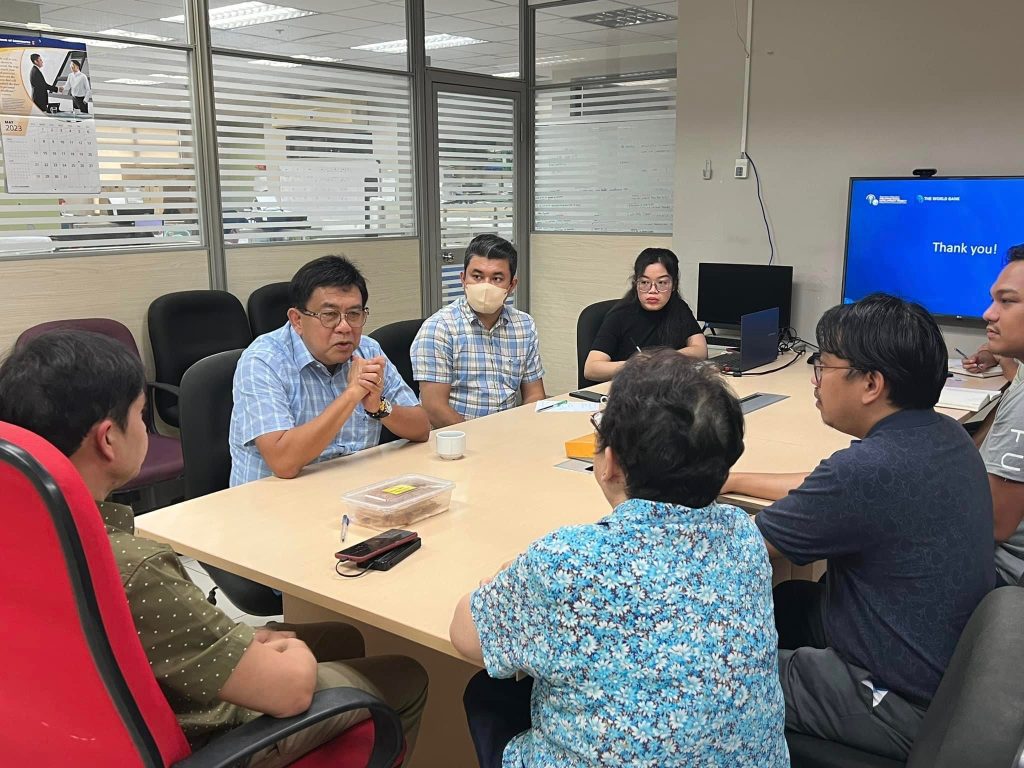 The Cooperative Development Authority (CDA), through the Office of Assistant Secretary Virgilio R. Lazaga, is exploring partnership with the Department of Agriculture-Philippine Rural Development Project (DA-PRDP) so that cooperatives engaged in agriculture may have access to its key programs.
On 17 May 2023, Asec. Lazaga was received by PRDP National Deputy Director Shandy M. Hubilla and the senior members of his team at their office in Quezon City for a briefing on the project and its program components. They also discussed the establishment of a formal partnership between CDA and DA-PRDP that will pave the way for agriculture-based cooperatives participating in the project.
The DA-PRDP is a World Bank-supported project designed to establish the government platform for a modern, climate-resilient, and market-oriented agriculture and fisheries sector. In cooperation with local government units (LGUs) and the private sector, PRDP provides key infrastructure, facilities, technology, and information geared towards increasing rural incomes and enhancing farm and fishery productivity.
The project has four (4) major components, namely:
1) Investments in Agriculture and Fisheries Modernization Plan (AFMP) Planning at the Local and National Levels (I-PLAN),
2) Intensified Building Up of Infrastructure and Logistics for Development (I-BUILD),
3) Investments in Rural Enterprises and Agriculture and Fisheries Productivity (I-REAP), and
4) Project Implementation Support (I-SUPPORT).
CDA will be working with DA-PRDP primarily in the I-REAP component through which qualified cooperatives may avail of technical, financial, infrastructure, technology, and marketing support to develop their agriculture- and fishery-based enterprises.
Agriculture cooperatives may submit proposals to fund the establishment or upgrading/expansion of their businesses enterprises related to the identified priority commodities in their respective areas. However, as their counterpart, proponent cooperatives should be capable of providing equity equivalent to 20% of the total cost of their proposal.
Under this forthcoming partnership, CDA shall initially evaluate the submitted proposals and – if the proponent cooperative is found eligible and its proposal, viable – shall endorse the same to DA-PRDP for approval. Moreover, CDA shall provide recipient cooperatives of the project with technical assistance and capacity support services such as coaching and mentoring for effective management of business enterprise operation and expansion, skills training, market linkaging, and facilitating access to financial institutions.
As the first step to a formalized partnership, the CDA and DA-PRDP shall craft their terms of engagement that will serve as bases for the Memorandum of Agreement (MOA) which is foreseen to be signed by the heads of these agencies before the year ends.
Pending the signing of said MOA, CDA may already endorse to DA-PRDP qualified agriculture cooperatives that have the intention of participating in the project.
"This is a promising joint venture that will come a long way to help those in the agriculture sector especially the fisherfolks who suffer the worst form of poverty among the basic sectors of society," Asec. Lazaga said.