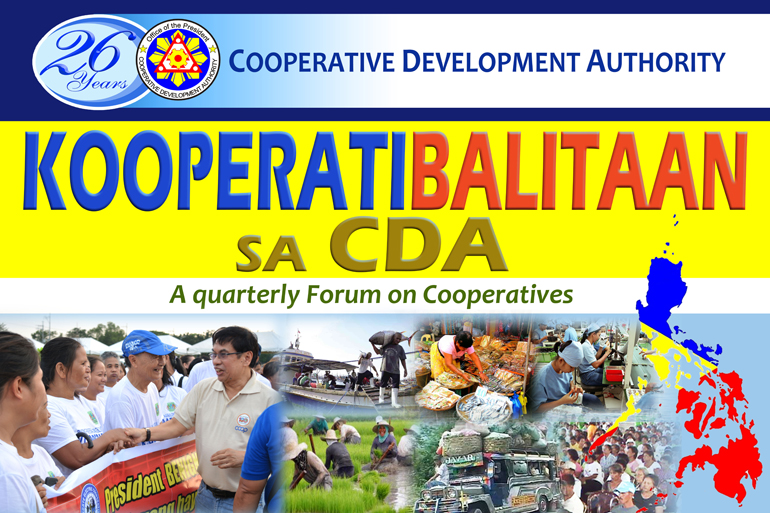 "In celebration of the CDA's 26th Anniversary, KOOPERATIBALITAAN, a quarterly cooperative forum, will be launched on March 10, 2016, 9am at CDA Main office. Forum topics: CDA Roadmap, CSF Cooperative Law, Natl Strategy for Financial Inclusion. Journey of CDA for 26 years will also be presented. Cooperatives and co-op devt partners are invited! RSVP: 725-6604"
In a nutshell, this activity is guided by the following framework:
What is KOOPERATIBALITAAN?
KOOPERATIBALITAAN SA CDA is a convergence of all the stakeholders of the cooperative movement. This quarterly assembly will be a venue to discuss and share relevant information about the CDA, cooperatives, rules and regulations, development programs, and others which are either of national or local importance.
This forum is one of the CDA's information delivery mechanisms among cooperative stakeholders. As part of the Communication and Advocacy Plan of the Authority, the KOOPERATIBALITAN is in support of the PHILIPPINE ROADMAP FOR COOPERATIVE DEVELOPMENT which is anchored on the realization of collective vision and mission of the cooperative sector which is "Transformative Cooperative for People, Planet, Prosperity, Peace and Purpose".
What are the objectives of the program?
General:
Build and promote the image of CDA; and
Promote cooperatives as vehicle for socio-economic development.
Specific:
Share information about the CDA;
Present latest rules/regulations/issuances approved by the CDA;
Showcase cooperative best practices and/or products with market potentials;
Thresh out national/local issues/concerns on cooperatives; and
Share other relevant information to the cooperative sector
How the program will be carried out?
The KOOPERATIBALITAAN sa CDA will be held every quarter starting March 10, 2016 and thereafter;
The program will be held every 2nd Thursday of last month of every quarter; and will last for TWO (2) hours only from 9:00 am – 11:00 am;
Regular venue will be at the CDA Central Office Conference Room;
Every quarter, different topics/issues/events and others concerns affecting cooperatives will be tackled. Resource persons from the CDA, cooperatives, and other organizations will be invited to discuss the identified topics;
Should there be regional/local topics/issues needing assistance from regional offices, Extension Offices Directors shall make themselves available thereof;
Time for open forum will be allotted for questions, clarifications, and further discussion of the topics;
Target audience shall be the cooperatives, media practitioners, and other stakeholders; and
Program facilitator/s will be assigned every quarter.
Who should participate?
Cooperatives, government and non-government organizations and cooperative stakeholders including Media Practitioners/Outfits are welcome to attend and participate in this forum.
What will be the topics and schedules for 2016?
DATE/S
TOPICS/ACTIVITIES
1ST Quarter

March 10, 2016

9:00 am – 11:00 am

Launching of the Program

CDA at 26 Years: Its journey, life and aspirations

CDA Roadmap

Credit Surety Fund Cooperative Law (RA 10744)

National Strategy for Financial Inclusion (NSFI)

2nd Quarter

June 9, 2016

9:00 am – 11:00 am

Micro Insurance Cooperative

Credit Information System Act (CISA)

Cooperative Best Practices

CDA Latest Memo circulars/ issuances/ rules/regulations

3rd Quarter

October 13, 2016

9:00 am – 11:00 am

Cooperative Month Celebration

Cooperative Best Practices

Transport Cooperatives

CDA Latest Memo circulars/ issuances/ rules/regulations

4th Quarter

December 8, 2016

9:00 am – 11:00 am

What's up for 2017 by the CDA

Cooperative Banks

Labor Service Cooperatives

CDA Latest Memo circulars/ issuances/ rules/regulations
Topics from 2nd quarter onwards may change depending on what are the latest and up-to-the-minute issues for the quarter.