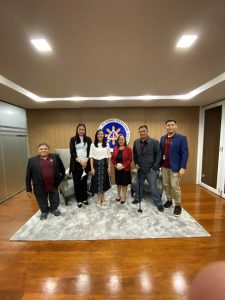 Quezon City Hall, August 14, 2023- A first for the city of stars, the officers of the Quezon City CSF Cooperative (QCCSFC) formally took their oath of office with the City's Mayor Hon. Josefina "Joy" Belmonte as presiding officer. The significant event coincided with the turn-over of the cooperative's Certificate of Registration from the Cooperative Development Authority (CDA). The occasion was made possible through the efforts of Ms. Mona Celine Marie V. Yap, Department Head, Small Business and Cooperatives Development and Promotion Office, and was attended by the members of the cooperative's Board of Directors headed by its Chairperson Normita Cortez, and Directors Ms. Carolina Camello, Mr. Leonardo D. Aurellana, Jr., Land Bank of the Philippines, Mr. Mel Rivuelta, Tribe, Ms.Aida L. Basilan, Mr. Danny Llena and Ms. Magielyn Santarinala (Treasurer). The event is a testament to the strong support of the local government unit (LGU) underscoring the vital role of the cooperatives in the growth of the city's local economy.
On the part of the CDA, the event is the start of many future collaborations with the Quezon City LGU  for the empowerment of the micro, small, and medium enterprises (MSMEs) for a financially resilient community.
The event was likewise attended by CDA officers and staff led by Atty. Ma. Lourdes P. Pacao, Deputy Administrator, Credit Surety Fund Service, Ms. Jo Ann C. Gamboa, Division Chief, CSF Inspection and Examination Division, Dir. Pedro T. Defensor, Jr., Regional Director, CDA-NCR Extension Office, with CSF Section Chief Mr. Sergio E. Herrero, Jr., and Mr. Ryan Andrew F. Dela Luna, Cooperative Development Specialist.
The Credit Surety Fund (CSF) program advocates collateral-free loans to micro, small, and medium enterprises (MSMEs) that include cooperatives and its member-entrepreneurs, and NGOs, who are encountering difficulty in obtaining loans from banks due to a lack of credit history and stringent requirements that banks normally require. As mandated by the CSF Cooperative Act of 2015 or RA 10744, a CSF cooperative is organized through the pooled contributions of the LGU, cooperatives, NGOs, Banks, Philguarantee Corporation, and government agencies that serve as their investment.
As the QCCSF Cooperative begins its operation, it holds the promise to transform the city's local economic landscape into a vibrant business community through the support it can provide to its members.