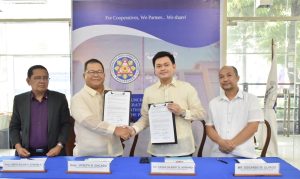 The Cooperative Development Authority (CDA) and the National Library of the Philippines (NLP) made a significant move to support cooperative education and deepen the understanding of the cooperative movement with the launch of a dedicated Cooperative Section at the NLP. The section was inaugurated following the signing of a Memorandum of Agreement (MOA) between the two institutions and was attended by various guests, including CDA Board Members, Cooperative Leaders, and representatives from the academe.
The signing of the MOA is a significant moment as it paved the way for the establishment of a specialized section within the institution focused solely on cooperatives.
The launch of the Cooperative Section is anticipated to create opportunities for cooperative enthusiasts, students, researchers, and practitioners, granting them easy access to a wide range of literature, publications, and resources. It is envisioned to be an invaluable source of information for those interested in engaging in cooperative endeavors. It will not only educate and inform but also inspire future generations to embrace the cooperative movement's values and principles.