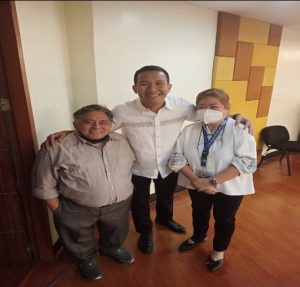 No CSF Cooperative will be organized without the commitment and support of the local government unit (LGU) by contributing to the fund and providing other assistance for the growth of micro, small and medium enterprises (MSMEs).
Pasig City had already established their own cooperative programs beginning 2023 and the budget had already been approved to facilitate the programs throughout the entire city. This is through the tireless effort of City Councilor Paul Roman C. Santiago, Chairperson on Committee of Cooperative of Pasig City Council together with the chief implementor, the Cooperative Development Office (CDO), Officer-In-Charge Ms. Donalita C. Cruz.
During a visit by Senior CDS Sergio E. Herrero Jr., CSF Section, CDA NCR with CDO OIC Ms. Cruz and Councilor Santiago last February 27, 2023 at the city council's session hall, it was agreed that the CSF concept will slowly be integrated to the existing cooperative programs of the city. The initial target for CSF Orientation will be on April 2023.
The meeting was an offshoot of the courtesy visit of CSF Service personnel with Mayor Victor Ma. Regis "Vico" N. Sotto led by Deputy Administrator Atty. Ma. Lourdes P. Pacao together with CDA NCR CSF Section last November 23, 2022, where the concept of CSF and the law of RA 10744, otherwise known as Credit Surety Fund Cooperative Act was introduced. Said law provides for the organization and establishment of CSF Cooperatives in every locality throughout the country.
A CSF Cooperative is an LGU-partnered cooperative comprise of well-capitalized and well managed cooperatives/non-government organizations (NGOs), government financial institutions (GFIs), Philguarantee Corporation (PGC) and government agencies (GAs) that will enable the MSMEs, cooperatives and NGOs gain easier access to credit with affordable interest rates from banks without need for collaterals thru the issuance of a surety cover.
---
By:
SERGIO E. HERRERO, JR.
SCDS, CSF Section NCR Office