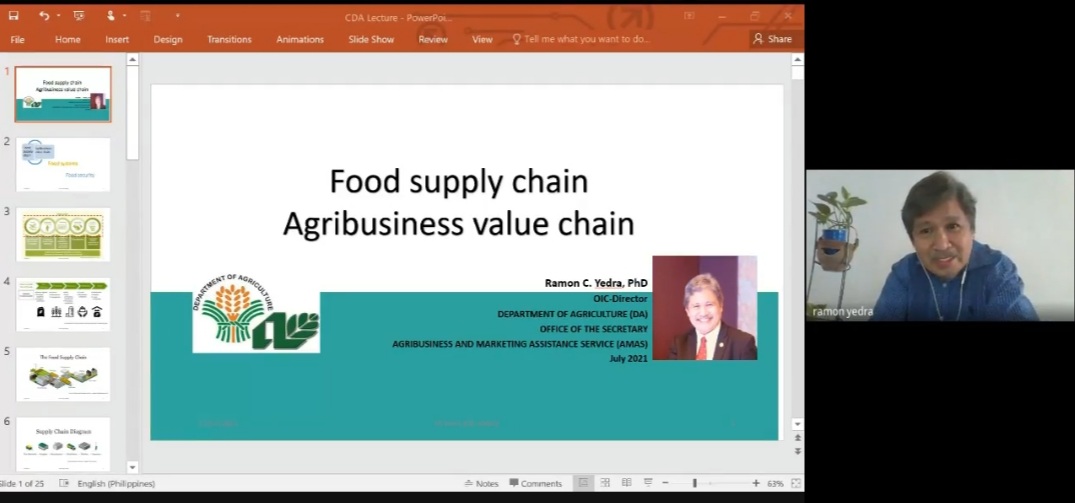 One of the priority concerns of CDA is to build the capacity of its technical personnel through the introduction of new learnings for the development of cooperatives.  Supply and value chain is in CDA's menu of assistance to cooperatives, however, the grasp of the concept is limited.
On July 13, 2021, an Orientation on the Basics of Supply and Value Chain was initiated by the Cooperative Project Development and Assistance Division (CPDAD) and attended by personnel from the Institutional Development Service – CPDAD and CRITD of the head office, and CPDAS and CRITS of the regional offices. The orientation aimed to provide better understanding on supply and value chain among the participants in order for them to channel the information to cooperatives and to gain knowledge as well on the conceptualization of CDA Global project which will expand market opportunities for the cooperatives.
The topics were ably discussed by Dr. Ramon C. Yedra, OIC Director of Agribusiness and Marketing Assistance Service of the Department of Agriculture (DA-AMAS). He explained the concept and definition of supply and value chain.  He also stressed the importance of the  main actors in supply chain, from raw materials-supplier-manufacturer-distributor-retailer up to the consumers and how they contribute in the process, including the factors on each phase that may affect the availability, quality, and affordability of the product.  Value chain, on the other hand, was defined as "a network of business enterprises connected along a chain of value adding activities involved in producing, transforming and bringing agricultural products to end-consumers."
Dr. Yedra further talked about the difference between supply chain and value chain approaches, including the Agri-Food Sector in the Philippines where he gave emphasis on the role of our farmers, including the participation of cooperatives in each cycle of the supply and value chain.
In closing, Deputy Administrator Ray R. Elevazo conveyed his appreciation and thanks to the Department of Agriculture for accommodating CDA and to Dr. Yedra for the knowledge and information shared.   The participants also expressed their thanks for the presentation that was very informative and enlightening.  -MRoquiño