It was indeed a special day for micro, small and medium enterprises (MSME) as the Credit Surety Fund Service held a virtual forum on Business Opportunities for MSMEs on October 26, 2022 as part of the culminating activity of the 2022 Cooperative Month Celebration.
The forum was attended by close to 200 officers and members of various primary cooperatives and entrepreneurs all over the country who listened to the countless scholarship programs being offered by the Technical Education and Skills Development Authority (TESDA) presented by Deputy Director General (DDG) Atty. Tonisito M.C. Umali, as well as business opportunities for MSMEs presented by Trade Industry Development Specialist Mr. Jomel B. Lozada of the Department of Trade and Industry (DTI).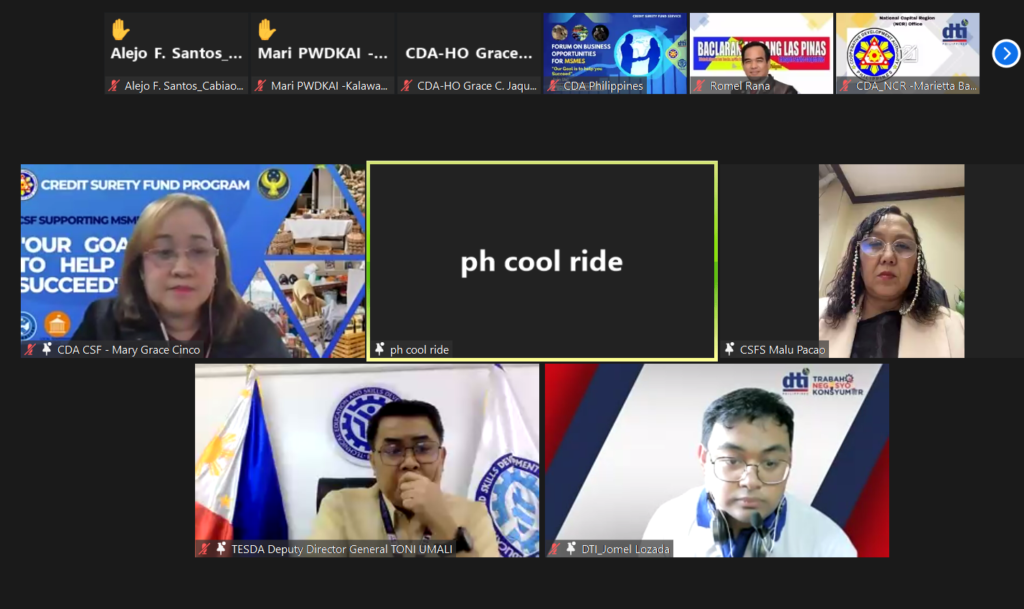 One of the highlights of the program was a short audio visual presentation (AVP) of three micro entrepreneurs – 1) Mr. Christopher Angeles, a member of San Miguel de Marilao Multipurpose Cooperative who owns a steel fabrication business with several branches in Marilao, Bulacan; 2) Ms. Criselda P. Antonio, member of Silangan Multipurpose Cooperative in Davao City who owns a meat shop, piggery farm and laundry shop; and 3) Ms. Sharonette D. Roquios of Antipolo, Rizal, a former seafarer/OFW who is now the owner of her own company, Sisidlan by Virginia, which manufactures customized woven bags. The three entrepreneurs related their early struggles as neophytes in the business – insufficient capital, low sales, market competition – which are part and parcel in any start-ups. However, with prayer, hard work, perseverance, integrity and proper financial management, they were able to overcome these challenges.
Queries from participants pertaining to DTI's programs for distressed cooperatives affected by the pandemic were raised during the open forum. Mr. Lozada of DTI said that the SB Corporation is offering affordable loan windows for enterprises that were affected by the global health crisis which can be accessed thru its website. As for TESDA, a participant who is unemployed followed up on the status of his application for a training program on driving. DDG Umali requested for the participant's contact information and gave assurance that he will personally look on the status of the participant's application.
The CSFS conducted the activity as its advocacy to help the MSMEs succeed being drivers of the economy, citing that said sector comprises 99.58% of all businesses in the country according to 2021 MSME Statistics released by the Philippine Statistics Authority. – Grace Cinco, TAD