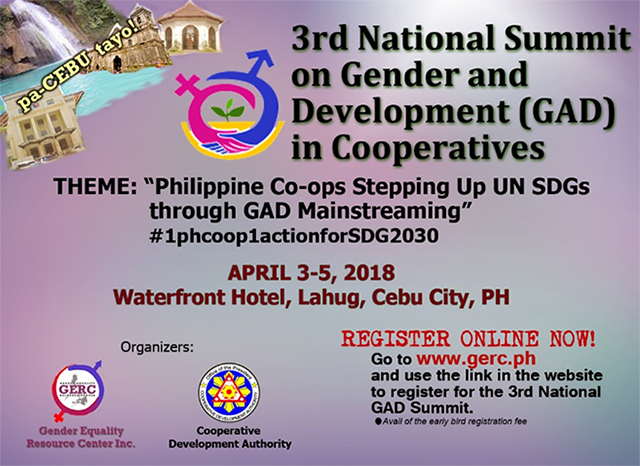 The Gender Resource Center (GERC) in partnership with the CDA will be holding the "3rd National Summit on Gender and Development (GAD) in Cooperatives" on April 3-5, 2018 in Waterfront Hotel, Lahug, Cebu City, PH. The Summit theme is "Philippine Co-ops Stepping up UN SDGs through GAD Mainstreaming" #1phcoop1actionforSDG2030.
Cooperatives, national and local government organization; and other interested organizations are invited to participate and be part of this valuable opportunity for cooperators to harness the sweeping Sustainable Development Agenda toward promoting gender equality (GE) and ending all forms of discrimination against women in cooperatives, workplaces, and communities by 2030.
Specifically, Summit participants will be able to:
Know the role of co-ops in attaining—through GE and women empowerment—the "17 United Nations (UN) Sustainable Development Goals (SDGs)"
Get updates on emerging frameworks and concerns affecting co-ops, women, and men
Participate in the inspiring sharing by Summit resource speakers
Build unity with other Summit participating co-ops in the back-home action of helping other co-ops nationwide in becoming even better and stronger through gender integration.
Who should attend this Summit?
Cooperatives' Board of Directors and other officers;
General Managers/Chief Executive Officers;
GAD Committee; Education Committee;
GAD Focal Persons;
GAD Trainers;
Human Resource Officers;
Co-op Development Officers of local government units;
GAD Focal Persons of government agencies that support co-ops; and
people's organizations and other organizations that support GAD in co-ops
How to register?
Letter Invitation (see attached)
http://registration.gerc.ph/index.php?request=1749f8d5c583c22b9337
http://registration.gerc.ph/index.php?request=ea74dd0b0e977c5a8bdf
http://registration.gerc.ph/index.php?request=08043acc3a15b5930f27